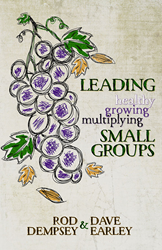 Lynchburg, Va. (PRWEB) April 12, 2016
In the latest release from Liberty University Press, "Leading Healthy, Growing, Multiplying Small Groups," Rod Dempsey and Dave Earley share their formula for creating strong, Christian small groups that fulfill the Great Commission.
The book is designed for those wondering how to start a small group Bible study or how to address common problems that arise in small groups. "Leading Healthy, Growing, Multiplying Small Groups" is also a resource for group leaders — to help them establish a specific purpose and parameters for their meetings and goals that group members can work together to achieve.
Dempsey and Earley are pastors and professors with insight on small group ministry from both an academic and a practical perspective. "Leading Healthy, Growing, Multiplying Small Groups" has 50-plus short chapters addressing specific topics, such as going through transitions with your group, incorporating children into your meetings, and cultivating future group leaders.
"Leading Healthy, Growing, Multiplying Small Groups" is available on Amazon and Barnes & Noble.
About the Authors:
Dave Earley is the lead pastor of Grace City Church in Las Vegas, Nevada. He is also the former chairman of the department of pastoral leadership and evangelism for the Liberty University School of Divinity. Earley has authored 18 books.
Rod Dempsey is a professor of educational ministries at Liberty University's School of Divinity as well as the discipleship pastor at Thomas Road Baptist Church. Dempsey has also served as a church planter, Christian education pastor, membership pastor, small group pastor, and church elder.
About Liberty University Press:
Liberty University Press is the book publishing arm of the world's largest Christian university. It was established in 2008 and is dedicated to supporting academic research and the creation of scholarly materials. Liberty University Press books are being read in college classrooms, studied by churches and Christian organizations, and enjoyed in homes around the country.
About Liberty University:
Liberty University, founded in 1971, is the largest private, nonprofit university in the nation, the largest university in Virginia, and the largest Christian university in the world. Located near the Blue Ridge Mountains on more than 7,000 acres in Lynchburg, Va., Liberty offers more than 500 unique programs of study from the certificate to the doctoral level. More than 200 programs are offered online. Liberty's mission is to train Champions for Christ with the values, knowledge, and skills essential for impacting tomorrow's world.