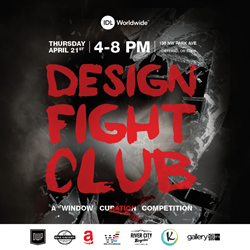 Portland, Oregon (PRWEB) April 13, 2016
A Design Week Portland event, IDL's Design Fight Club features four surprise special guests from different design backgrounds, each armed with a team of four competitors in a bikes and cycling themed window merchandise display competition. Provided with merchandise from local retailers and a pantry of supplies, each team will have two hours to curate the ultimate window display. Event attendees decide which team walks away with eternal glory (and killer local swag)!
The event will be held on April 21st, 2016 in IDL Worldwide's ground level gallery space, Gallery 135, from 4:00pm-8:00pm. Food and beverage are provided. Local partners include KOi Fusion, West End Bikes, River City Bicycles, Bike Gallery, and Athlete's Lounge.
Event is free with registration: https://2016.designweekportland.com/events/idl-s-design-fight-club
Design Week Portland is a week-long, city-wide series of programs exploring the process, craft, and practice of design across all disciplines.
About IDL Worldwide:
IDL Worldwide (http://www.idlww.com), a Matthews International company, is a global retail design and project management services firm that delivers strategy, creative, execution and reporting of in-store marketing programs that range from temporary graphics to store fixtures. With Brand Centers in Pittsburgh, PA and Portland, OR, and offices in Chicago, Mexico, Germany, Brazil and China, IDL's retail-centric approach spans from generating brand strategy to fabricating brand solutions.