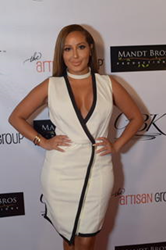 Los Angeles, CA (PRWEB) April 13, 2016
GBK Productions, the celebrity gift lounge and special events company, hosted their signature gifting event on April 8th and 9th at Mandt Brothers Production Studios in Hollywood, CA. Celebrities from TV and film visited the lounge in celebration of the annual awards show, and left with a gift bag filled with an array of fun finds.
The event featured both luxury beauty and fashion trendy brands including: The Artisan Group®, providing each celebrity with a collection of handcrafted jewelry and accessories, spa and bath products, hair accessories, cosmetics, perfumes, pet accessories, and other handmade gifts; Wylie - multi-functional pushup bras and lingerie made in Venice Beach, CA; JLEW bags – leather lifestyle bags intended to function as a single carryall for urban women on the go; MyIntent, gifting personalized handcrafted bracelets with each celebrity's Intent engraved; and bullets4peace.com – a handcrafted jewelry line promoting peace and compassion, and gifting their unique bullet necklaces made from repurposed bullet casings.
Health and beauty sponsors are always a highlight of the lounge. This year's sponsors included: Benzac® Acne Solutions – Benzac Complete Acne Solutions Regimen has clinically proven ingredients that start working immediately to attack the root cause of acne; Express Smile Atlanta – gifting certificates to try their LED teeth whitening system which is fast acting with strong results that seem to appear almost instantly; and Haute™ Brush, a hair straightener that combines the traditional flat iron & brush into one convenient ultimate beauty tool. The event will also feature MyFaceMyBody, 'Making Aesthetic Beauty Accessible', The Ultimate Guide to Beauty.
Other sponsors included: The Science of Eating – a weight loss, health, wellness, fitness, recipe & healthy lifestyle website; Petco Animal Supplies – providing Harajuku Lovers by Gwen Stefani dog toys and apparel as well as Star Wars collectible dog toys, each of which are only available at Petco; and Wag Labs Inc. - The Mobile Dog Walking App, which enables dog owners to book dog walks instantly or on a recurring basis, as well as monitor the dog walker via built-in GPS tracking.
No lounge, or party, would be complete without delicious food, drink, and dance worthy tunes. Celebrity guests enjoyed the eclectic style of DJ Goodboy who is known for her monthly dance expression event – "Milk Milk Lemonade"; a sampling of premiere cocktails by Voo Vodka - a premiere spirit distilled in Michigan; and Jaliscos Mobile Taco Grill – sampling and gifting mobile taco grill catering for 50 guests.
The event featured the following charitable organization:
Face Forward - a non-profit organization in Beverly Hills that provides pro bono reconstructive surgery and emotional support for victims of domestic violence, human trafficking and other cruel acts of crime.
ABOUT GBK:
GBK, formerly GBK Productions, is a luxury lifestyle gifting and special events company, specializing in entertainment marketing integration. Formed in 2000 by Gavin Keilly, the company's Founder and CEO, GBK consists of five divisions: GBK Celebrity Gifting, GBK Special Events, GBK Weddings, GBK Charitable Consulting and GBK Marketing/Public Relations. Widely known in the entertainment industry for bringing that little extra something into the Gifting Lounge environment, GBK offers its clients a full range of marketing services. For more information on Gavin B. Keilly (CEO), Carla Domen (VP) or GBK, please go to gbkproductions.com.
###