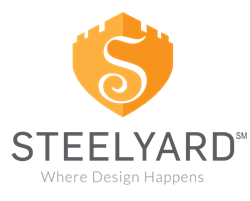 "We couldn't be more thrilled with the addition of Steven and Vera to Steelyard. They each have impressive brands of their own and bring an entirely unique set of talents, expertise and experience that are key to our strategic direction."
TAMPA BAY, Fla. (PRWEB) April 13, 2016
Steelyard – the leading online and mobile marketplace for connecting design professionals with leading brands – welcomes Steven Avitable as SVP of Business Development and Vera Djonovic as Business Development Director, East Coast.
Mr. Avitable further extends Steelyard's seasoned leadership team, driving initiatives to expand Steelyard's strategic brand roster and strengthen ties with both current and future industry partners.
"Steelyard has been serving a unique and vital role in our industry for 18 years," said Avitable. "I've long been inspired by their continuous innovation to simultaneously deliver on the needs of designers as well as the brands that supply them. Joining the Steelyard team is a great way to continue my career specialty of unifying the design community with the brands that respect them, want to work with them and provide the products they need."
During his extensive career, Avitable has served in executive and independent consulting positions in major retail, trade and design companies including Robert Allen, Christopher Guy, Ralph Lauren Home and Kate Spade. His experience in leading merchandising, marketing, store planning, visual merchandising, sales management, brand development and product development ties directly into his focus at Steelyard.
Ms. Djonovic will head Steelyard's business development for design-related initiatives, connect with luxury brands and strengthen the design community in the New York region.
"I have a deep passion for the worlds of interior design and fashion. My desire to connect with and help others personally and professionally is what drives me in my daily life. Working for Steelyard affords me the opportunity to combine both of these passions with my experience online and within the industry," says Djonovic. "I knew when I walked into the Steelyard offices and met the staff that the company was a good fit. They demonstrated how they care for their clients and their design industry members. I couldn't be more excited," she said.
Throughout her career, Djonovic has worked in fashion and interiors online as well as through in-person engagement with key industry players. She led Business Development at V&M (Vintage and Modern) and was instrumental in the growth of the company before it was acquired in 2013. Since then, Djonovic has been working with luxury brands such as Dolce & Gabbana — as well as with a broad portfolio of private companies, celebrities, charities and international clients.
"We couldn't be more thrilled with the addition of Steven and Vera to Steelyard. They each have impressive brands of their own and bring an entirely unique set of talents, expertise and experience that are key to our strategic direction," said Stacey Tiveron, Founder and President of Steelyard. "Even more than their brilliance, is their genuine care and desire to help the industry as a whole, which is the backbone of who we are as a company."
About Steelyard
Steelyard is an 18-year-old company that is a pioneer in leveraging technology to power design industry commerce. Our online platform connects professional designers with compelling brands — blending inspiration and efficiency to create the commercial and residential design industry's premier online marketplace.
For our professional design members, Steelyard provides a secure and vetted community of leading manufacturers and vendors whose interest is to serve the diverse needs of designers, architects, builders, and facility managers. For our manufacturer brands, Steelyard provides an effective business development channel to reach tens of thousands of professional trade buyers in a diverse and lucrative B2B market that specifies over $68 billion of products in North America annually. For more information, please visit us at http://www.SteelyardAccess.com.
Contact:
Nate Warren
Fusion Marketing Partners
720.244.4734
nwarren(at)fusionmarketingpartners(dot)com
###