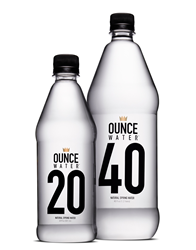 Did you get OUNCED today?
New York, NY (PRWEB) April 13, 2016
Actor, producer, and philanthropist Theo Rossi (FX's "Sons of Anarchy" and Marvel's "Luke Cage") is making it easier for consumers to reach their daily need of water. OUNCE WATER™, LLC launches today in New York City with the goal of making healthy habits easier by setting a daily goal to drink 80 ounces of water. OUNCE WATER™ makes the math easy. Simply drink two 40 OUNCE WATER™ bottles or four 20 OUNCE WATER™ bottles to reach the daily goal of water intake.
Available online at http://GetOunced.com, OUNCE WATER™ is sold in cases of 40 ounce (12 count 1.2 liter bottles) and 20 ounce (24 count 591ml bottles). One case of OUNCE WATER™ provides the customer with six days worth of water. You can enjoy the ease and convenience afforded by having OUNCE WATER™ delivered to the home or office every month. The OUNCE WATER™ subscription service is currently available in discounted bundles from 3-12 months. This service saves the customer up to 20% off regular cost. 20 OUNCE WATER™ and 40 OUNCE WATER™ cases and individual bottles will soon be available in retailers throughout New York City and the tri-state area.
OUNCE WATER™ is bottled in BPA Free plastic bottles. OUNCE WATER™ Natural Spring Water is zero calories, sugar free, sodium free, non-GMO and gluten free. OUNCE WATER™ encourages recycling of our plastic bottles.
About OUNCE WATER™
OUNCE WATER™ comes from deep inside the heart of 'Americas First Wilderness', the rugged, rocky terrain of the Catskill Mountains. Lying deep inside thick, impermeable layers of prehistoric clay, our Natural Spring Water is naturally isolated from any possible surface drainage or run off. Exceptional geological and geographical factors have created the perfect environment for OUNCE WATER™. Comprised of rock from the Precambrian Era, among the oldest on Earth at over 600 Million years, the crystalline subterranean gathering shelves create a dense, natural filtration system. This unhurried 60 year process through mineral rich stone gives OUNCE WATER™ its incomparable purity and superior taste. Our water's in-ground temperature is 41°F which maintains OUNCE WATER™ perfectly balanced mineral composition and creates its incredibly crisp structure. Vigorous quality control standards guarantee that customers will enjoy the same crisp and delicious water every time one of our bottles is consumed. OUNCE WATER™ is available in 40 fluid ounce (1.2 liters) and 20 fluid ounce (591ml) bottles of Natural Spring Water. OUNCE WATER™ is available for home or office delivery in the continental United States. http://GetOunced.com