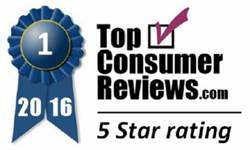 For top-quality meat at competitive prices, along with extraordinary customer service, Omaha Steaks earns our highest rating.
Overland Park, KS (PRWEB) April 13, 2016
TopConsumerReviews.com recently gave their top 5-star rating to Omaha Steaks, a leader in steak retailers.
For those looking to impress a relative, a business contact, or any beef fanatic, a gift of a delicious steak is highly appreciated. There are a number of steak companies that can ship appropriately-packaged, high-quality meats at a variety of price points. A choice filet mignon or T-bone steak can become the gift that leaves recipients full—and grateful.
Finding the right steak company is important to ensure the gift makes a good impression. When considering which retailer to use, customers should look at the range of gift-giving options available, as well as the cost and satisfaction guarantee. While some companies offer only a limited selection, the best steak retailers have a variety of gift-giving services, from steaks and combination meat options to recipe books and special seasonings.
"Omaha Steaks has practically become synonymous with gift-giving," explained Brian Dolezal, of TopConsumerReviews.com, LLC. "With nearly a century of experience in supplying grain-fed beef from the Midwest to thousands of satisfied customers, gift-givers can be completely confident that the strip steak, rib-eye, or top sirloin they choose will be fresh and delicious. All of Omaha Steak's products, from beef to poultry and even desserts, are backed by an unconditional satisfaction guarantee, which includes a full refund or a replacement product for any reason. Selections can even be delivered in an elegant gift box with a personalized greeting card, so that the presentation and the product come together in perfect harmony. For top-quality meat at competitive prices, along with extraordinary customer service, Omaha Steaks earns our highest rating."
To find out more about Omaha Steaks and other Steak companies, including reviews and comparison ratings, please visit the Steak category of TopConsumerReviews.com at http://www.topconsumerreviews.com/steak/.
About Omaha Steaks
Omaha Steaks manufactures, markets and distributes a wide variety of premium steaks, red meats and other gourmet foods. These products are custom cut and packaged to serve the needs of various markets. Founded in 1917, this family-owned business is headquartered in Omaha, Nebraska and sells its products through retail stores, mail orders, online, and direct to a number of foodservice vendors.
About TopConsumerReviews.com
TopConsumerReviews.com, LLC is a leading provider of independent reviews and rankings of hundreds of consumer products and services. From Steaks to Cigar Clubs and Gift Baskets, TopConsumerReviews.com delivers in-depth product evaluations in order to make purchasing decisions easier.