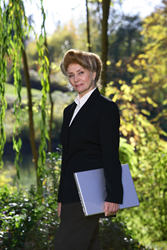 Grants Pass, OR (PRWEB) April 13, 2016
One frequently overlooked effect of climate change is the health impact on our personal body surface microenvironment (the environment immediately surrounding the body). According to fresh water advocate and radio host Sharon Kleyne, the microenvironment is affected by external factors such as temperature, humidity and air quality; internal factors such as health, stress and hydration; and intermediate factors such as the thin humid air layer given off by the body.
It may be possible, Kleyne contends, to proactively manage this microenvironment despite adverse surrounding conditions.
Sharon Kleyne will discuss the human body microenvironment and proactive management on her Sharon Kleyne Hour™ Power of Water® radio show of April 18, 2016. The globally syndicated, education oriented show is heard weekly on VoiceAmerica (Health and Wellness, and Variety Channels) and Apple iTunes. For podcasts of past shows, go to http://www.voiceamerica.com/show/2207/the-sharon-kleyne-hour
"Sharon Kleyne Hour® Power of Water®" is sponsored by Bio-Logic Aqua® Research Water Life Science®, founded by Kleyne and specializing in fresh water, the atmosphere, body surface evaporation, dehydration and education. The Research Center's signature consumer product is Nature's Tears® EyeMist® for dry eye.
Atmospheric conditions such as temperature, air quality and humidity (atmospheric water vapor), Kleyne notes, can affect: (1) The rate at which water evaporates from the skin surface into the air. (2) The body interior's ability to retain water. (3) The skin's ability to repel bacteria and viruses. (4) Perspiration.
The thin humid air layer surrounding the body, says Kleyne, helps prevent dehydration by slowing the loss of body water to evaporation. The purpose of perspiration, in contrast, is body temperature regulation. Both are important but they can work at cross purposes.
The worst environment for the human body, as far as hydration, according to Kleyne, is high humidity, high temperatures and no air movement. High temperatures cause the body to perspire. Perspiration cools because rapid water evaporation causes a loss of heat energy. If the external humidity is high and there is no air movement, the perspiration won't evaporate, there is no cooling, and the body will continue to perspire. This can cause rapid life threatening dehydration. The water in perspiration comes from the blood, not the skin surface.
With high temperatures and low humidity, Kleyne explains, there is less perspiration but greater evaporation of water from skin and eyes. Warmer temperatures increase molecular movement in water, accelerating the evaporation rate. This is dehydrating but the process is slower than dehydration from perspiration.
Cold air, Kleyne notes, is much drier and potentially more dehydrating than warm air but we tend to wear more clothing in cold air and are unlikely to perspire. Dehydration from body surface evaporation may not be immediately life threatening but can disrupt virtually every cell, structure and function in the body since they all rely on water.
Air pollution strongly influences human health, says Kleyne. Airborne pollutants such as carbon soot and fly ash attract and accumulate water vapor molecules from the surrounding air. The vapor laden soot particles then fall back to Earth before reaching the upper troposphere cloud zone. For this reason, there may be less rainfall in areas with poor air quality. Pollution can also pull water directly out of the skin and eye surface.
Water affects the pH (acid-alkaline balance) on the skin's surface, Kleyne notes. The body's interior is slightly alkaline, with negatively charged ions, and it attempts to expel acidic, positively charged ions. Expulsion often occurs through the skin. As a result, the skin surface is slightly acidic, creating a hostile environment for bacteria.
To mitigate the health effects of temperature, humidity fluctuations, and air pollution on the human body microenvironment, Kleyne suggests several proactive strategies. Most important is keeping eye and skin surfaces well hydrated. This is achieved by drinking at least eight glasses of water a day, in addition to all other fluid intake. Also, bathe or shower at least daily, avoid direct solar radiation and sunburn and keep indoor rooms properly humidified.
Kleyne suggests two products from Bio-Logic Aqua Research, Nature's Tears® EyeMist® and Nature's Mist® Face of the Water®. These humidify skin and eyes by infusing the body surface microenvironment with supplemental humid air. This can be especially beneficial in dry, polluted, air cold or windy air.
© Bio-Logic Aqua® Research Water Life Science®. All rights reserved.