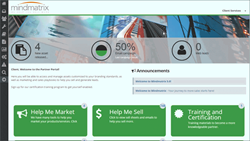 Suppliers can no longer afford to take a build-it-and-they-will-come approach when it comes to the tools and processes they ask partners to use.
Pittsburgh, PA (PRWEB) April 14, 2016
Mindmatrix partner marketing platform introduces superior channel partner engagement and visibility. Going beyond the typical partner management tools, Mindmatrix now offers vendors an in-depth insight into channel partner activities such as whitepaper downloads, email opens, website visits, certifications sought, and webinars attended, which let vendors gauge how their channel partners interact with their business. Vendors can now see which assets their channel partners are using with what prospects, at what stages of the sales cycle. Vendors also get access to partner sales and marketing campaign analytics, MDF usage details and can even engage in sales and marketing campaigns on behalf of their channel partners.
Harbinder Khera, CEO, Mindmatrix says, "All vendors agree that engagement and visibility are critical to the success of channel partner relationships. However, attaining the desired channel engagement level seems like an elusive goal. In fact, according to an IDC survey, 69% of all channel partners are inactive. At Mindmatrix, we believe that the desired level of channel engagement cannot exist if there's lack of clear channel visibility. Our channel marketing platform helps vendors attain that elusive goal by offering real-time, 360-degree partner view and analytics. With Mindmatrix, vendors can see much more than the standard channel partner pipeline. They will get information about the marketing and sales campaigns their partners engaged in, utilization of MDF, certification program sign-ups, etc. Understanding the channel engagement index allows vendors to make informed channel partner management decisions. Mindmatrix's channel partner monitoring tools offer vendors a deeper realization of their channel partner's commitment to their business."
Laz Gonzalez, Group Service Director, Channel Strategies at SiriusDecisions says, "Suppliers can no longer afford to take a build-it-and-they-will-come approach when it comes to the tools and processes they ask partners to use. Our research shows suppliers are doubling-down their resources to drive better engagement with their partners. This begins with activating partners through a strong onboarding process and later measuring their vibrancy using solutions like MIndMatrix's to get that 360 view."