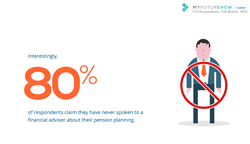 Having a number of pension pots leaves people feeling helpless with no control or understanding over how their pensions are performing.
London (PRWEB UK) 14 April 2016
A new survey on pensions shows that a majority of currently-working Brits believe that they will need an income of between 50% and 70% of their current take home pay in order to enjoy a comfortable retirement. Just over 10% of respondents put that figure as high as 100%. The poll, conducted by pensions consolidation start-up MyFutureNOW, surveyed employees at financial services firm LV (Liverpool Victoria), and omitted staff who work directly with pensions products. Other significant findings highlighted by the survey were that over 35% of respondents expect to go on working after the current official retirement age, the vast majority have a fractured pension pot with more than one plan and less than 20% have ever taken professional advice on their pension planning.
The poll was conducted as part of the innovative tech-based, pension consolidation platform's efforts to fine tune their product ahead of its impending full market launch. The young company is currently part of the InsurTech Accelerator, an intensive bootcamp and mentorship programme focused on 'Disruptive Insurance Innovation', of which LV, amongst other big names in the insurance and financial service industries, are partners.
Notably, and in keeping with the problem that MyFutureNOW has identified as the market need its product will address, just over 18% of surveyed respondents had one pension plan. Because workplace pension plans in the UK do not automatically follow the holder when they move jobs, employees often have more than one. MyFutureNOW believes that this makes it difficult for the average Briton to keep track of their pensions savings effectively, impacting good decision making and leading to higher annual management fees than necessary, an inefficiency which erodes their pension savings.
Alan Browne, the fledgling company's CEO commented:
"Having a number of pension pots leaves people feeling helpless with no control or understanding over how their pensions are performing."
Around 30% of the surveyed respondents had 2 existing pension plans with over 50% holding 3 or more.
Almost 10% had 5 or more separate pension plans. Almost 70% had never made any attempt to unify multiple pension plans, though a little over 30% had. Compared against the 18% who stated that they had only 1 pension plan, this would suggest that at least 15% had tried and failed in their consolidation efforts. This figure can be presumed to be much higher in the context of almost 15% of those surveyed being 30 years of age or younger and less likely to have moved between companies as would be expected from the older demographic.
Further findings resulting from the survey are that, of the less than 20% of those surveyed who had ever taken professional advice, between 43% and 47% considered that advice to have been of poor or average 'quality', and 'trustworthiness'. Over 50% rated the value for money of that advice as poor or average. The numbers of those who rated the advice received as 'good', or 'very good' for the same categories fell between 40% and 50% and 'excellent' between 6.5% and 10%.
Resources:
Full Survey Results: click here
Data Trends: click here
Infographic: click here
Company Logo: click here
Notes to Editors
MyFutureNOW was founded in 2014. It uses machine learning, artificial intelligence and a smart comparison engine to aggregate data with the intention of finding customers one better value plan to consolidate multiple pension plans, saving them thousands in fees.