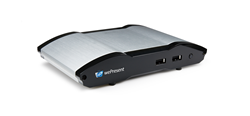 Our focus on the classroom led us to create a product that greatly facilitates teaching, yet also integrates with the existing environment
Rockwall, Texas (PRWEB) April 14, 2016
wePresent has announced an expansion to its line of wireless presentation systems, adding the WiPG-1600, which is geared toward education environments. The hardware, which has been touring the trade show circuit for the first quarter of 2016, has already won two awards: AV Technology's Best in Show 2016 and rAVe Publication's Best New Product for Higher Education. This explosive debut has proven that the newest wePresent model is the hardware that the education market has been looking for: a wireless presentation gateway that fits into an environment where collaborative technology and networking already exists.
The WiPG-1600 wireless presentation hardware provides a much needed solution for those who require the basic functionality of the wePresent, but don't require some of the more advanced solutions that the flagship WiPG-2000 offers, such as whiteboard and annotation abilities, onboard video streaming, or USB document and media viewing. Many schools and offices have already implemented collaborative technology, such as SMART Board displays, yet are missing the crucial piece of wireless presentation technology. Sensing the need for a more intermediate step, wePresent released the award-winning wireless hardware with more features than the model it replaces, but at a more moderate price point.
"Our focus on the classroom led us to create a product that greatly facilitates teaching, yet also integrates with the existing environment," states Heidi Mercer, Business Development Manager in wePresent's US office. "We listened to what educators and administrators wanted, and we've presented a product that fits into both their facilities and budgets."
wePresent has had a very busy year, thus far. In February, support for iOS 9 was announced on all wePresent wireless presentation gateways, and in March, Chromebook support followed. This made wePresent the first in their field to support both iOS AirPlay and Chromebook presentation. While the first months of 2016 have been a landmark for innovation and bar-setting at the company, it came off the heels of a year where wePresent took home three separate awards following InfoComm 2015. This new functionality, coupled with these awards has set wePresent up to be the leading manufacturer of wireless presentation hardware in the coming future, and proven that when it comes to the future of BYOD, they have the maneuverability to react to rapid changes in the makeup of both the corporate in education markets.