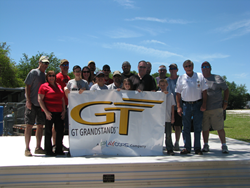 This is exactly what we were looking for and what we need.
Plant City, FL (PRWEB) April 13, 2016
Employees of GT Grandstands, a leading manufacturer of aluminum seating accommodations, came together last Saturday to volunteer time to American Veterans at AMVET Post 26 Valrico in Dover, FL. The team of employees and their families worked and completed a new outdoor stage for the Post.
The new stage will be used for upcoming events and gatherings at Post 26. The new structure is 400 square feet in size and features mud sills, a 2 foot elevation, and helical earth anchors for stability. Post Commander Lanny Boothe said, "I can't thank GT Grandstands enough for the time and effort into this. We will use this outdoor stage for many events throughout the year. The old stage was falling apart and had to be taken down. This is exactly what we were looking for and what we need. We are very grateful." AMVET Post 26 will hold a grand opening dedication ceremony for the outdoor stage on Saturday April 30 at 1pm.
In 2016, GT Grandstands celebrates its 15th year providing industry leading group seating accommodations for sporting complexes and crowd venues across the US. As part of the PlayCore family of brands, GT Grandstands strives to enhance the quality of life in the community where employees live, work, and play.
About GT Grandstands:
GT Grandstands designs and manufactures premium-quality grandstands, bleachers and a range of spectator seating options. Selection includes permanent grandstands, press boxes, existing structure renovations, standard portable bleachers and team benches. GT Grandstands offers a variety of standard bleacher styles with optional ADA accessibility features as well as custom design options. For more information, visit http://www.gtgrandstands.com or call 866-550-5511 for a consultation.
About PlayCore:
PlayCore helps build stronger communities around the world by advancing play through research, education, and partnerships. The company infuses this learning into its complete family of brands. PlayCore combines best-in-class planning and education programs with the most comprehensive array of recreation products available to create play solutions that match the unique needs of each community served. PlayCore's corporate headquarters is located in Chattanooga, Tennessee. More information is available about PlayCore, Inc. at http://www.PlayCore.com.