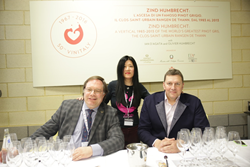 Bringing iconic producers such as Zind Humbrecht to Vinitaly is an amazing opportunity to showcase the diverse world of wine to all those interested in growing their knowledge.
Verona, Italy (PRWEB) April 13, 2016
Once again this year at Vinitaly, the Vinitaly International Academy (VIA) organized a series of guided tastings with the world's greatest winemakers. After the vertical tastings of Chateau d'Yquem with winemaker Sandrine Garbay in 2014 and Chateau Cheval Blanc with general director Pierre Lurton in 2015, this year the international VIA tastings kicked off with Olivier Humbrecht of Alsace's famous Zind Humbrecht domaine and their amazing Pinot Gris Clos Saint-Urbain Rangen de Thann.
A family estate founded only recently by Léonard Humbrecht and Geneviève Zind in 1959 but that has a tradition of vinegrowing and winemaking dating back to1620, Zind Humbrecht is unanimously considered today as one of the world's thirty most important wine estates. The estate is now run by their son, Olivier Humbrecht, also France's first Master of Wine, who has taken Zind Humbrecht to the next level, producing masterpieces that represent true expressions of terroir, sought after by collectors all over the world. This year Zind Humbrecht was chosen for the Vinitaly International 2016 award given to a foreign estate that exemplifies excellence in winemaking.
Zind Humbrecht owns 40 hectares of vines planted in what are some of Alsace's most famous Grand Crus, vineyards that are world famous: the Rangen de Thann (5.5ha), the Goldert in Gueberschwihr (0.9ha), the Hengst in Wintzenheim (1.4ha) and the Brand in Turckheim (2.4ha), It also farms other high quality terroirs such as the Rotenberg (1.8ha) and the Clos Häuserer (1.2ha) in Wintzenheim; the Herrenweg (11.5ha), Clos Jebsal (1.3ha) and Heimbourg (4ha) in Turckheim and the Clos Windsbuhl (5.15ha) in Hunawihr. The estate produces world class wines from varieties including Riesling, Gewürztraminer, Pinot Grigio, Silvaner, and Moscato Bianco. All the vines are farmed organically and according to biodynamic principles since 1997, with organic certification by Ecocert (1998) and biodynamic certification by Biodyvin /Ecocert (2002).
In the tasting held Sunday, April 10 at Vinitaly, Ian D'Agata, Scientific Director of VIA and Olivier Humbrecht, guided participants through twelve years of the fantastic Pinot Gris Clos Saint-Urbain, from the most recent 2013 to the unforgettable 1983. The standing-room only event included participants of this year's Vinitaly International Academy Certification Course, an initiative by VIA to educate and train a fleet of Italian Wine Experts and Ambassadors around the world. Though the course focuses on Italian wines, the candidates present recognized the enormous value in bring to Vinitaly international winemakers of such a high caliber.
"Having world-class international wines shown at Vinitaly presents a truly global flavor to this great Italian event!" agreed Harshal Shah, a wine consultant, wine writer from Australia who participated in the VIA Certification Course. "It will mean that it will draw not only businesses, journalists and wine-lovers who are focused on Italy, but those who want to learn or do business in a broader market. The Zind Humbrecht retrospective reinforced the legendary estate's status. It also showed the magical evolution of the much-under-rated Pinot Gris grape. It was a privilege to taste a little bit of history, joined by Olivier Humbrecht himself!
"Bringing iconic producers such as Zind Humbrecht to Vinitaly is an amazing opportunity to showcase the diverse world of wine to all those interested in growing their knowledge," agreed Corinne Keddie of Canada, a newly minted Italian Wine Ambassador from Canada. "It is not every day that I am able to taste a vertical that spans 30 years; to have a winemaker describe each vintage in terms of the growing conditions and how the wines were made; and then to taste how each wine develops and changes over such a long time frame. This is an invaluable lesson that will greatly further my understanding of wine."
The international tastings contribute to Vinitaly International's goal of attracting the highest caliber of wine trade to Verona. "It all comes back to the business side - during Vinitaly we're trying to attract more international buyers," explains Managing Director of Vinitaly Stevie Kim. "Vinitaly can't accommodate large numbers of international exhibitors, so we hold these VIA seminars in order to give attendees an incredible opportunity to taste the finest wines in the world, and it's an honor to have Olivier Humbrecht here with us. We'd like to integrate more international wines in the fair as well, but at will take time. The international VIA tastings, along with our international wine competition, 5 Star Wines, and the VIA Certification Course help give Vinitaly a more international flavor."
About:
Veronafiere is the leading organizer of trade shows in Italy including Vinitaly (http://www.vinitaly.com), the largest wine and spirits fair in the world. During its 49th edition Vinitaly counted some 4,000 exhibitors on a 100,000 square meter area and 150,000 visitors including 2,600 journalists from 46 different countries. The next edition of the fair will take place on 10 - 13 April 2016. The premier event to Vinitaly, OperaWine (http://www.vinitalyinternational.com) "Finest Italian Wines: 100 Great Producers," will unite international wine professionals on April 9th in the heart of Verona, offering them the unique opportunity to discover and taste the wines of the 100 Best Italian Producers, as selected by Wine Spectator. Since 1998 Vinitaly International travels to several countries such as Russia, China, USA and Hong Kong thanks to its strategic arm abroad, Vinitaly International. In February 2014 Vinitaly International launched an educational project, the Vinitaly International Academy (VIA) with the aim of divulging and broadcasting the excellence and diversity of Italian wine around the globe. VIA has now also organized its very first Certification Course with the aim of creating new Ambassadors of Italian Wine in the World.
# # #