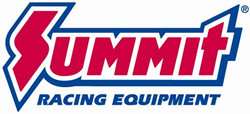 Tallmadge, OH (PRWEB) April 14, 2016
Summit Racing now carries Artec Industries off-road products for Jeep vehicles--everything from chassis gussets to fuel cell brackets, skid plates, bumpers, and axle trusses.
Fuel Cell Brackets
Don't trust the safety of a fuel cell to a couple flimsy steel straps. Artec Industries Fuel Cell Brackets are made from thick cold-rolled steel for uncompromised strength. The bases are strong enough to flush-mount to a sheet metal tub, or a Jeep owner can mount a bracket on bushings or weld it directly to the chassis. Artec Fuel Cell Brackets are available to fit popular RCI and Jaz fuel cells.
Under Armor Skid Plates for Wrangler JK
These Under Armor Skid Plates provide full protection for a Jeep's oil pan, transmission pan, fuel tank, front exhaust pipe, and transfer case. Precision CNC laser-cut and formed, the belly pan-style skid plates are made from 1/4 inch thick 6061 aluminum and mount with 3/16 inch thick steel mounting brackets. The modular design allows the user to remove one section at a time for vehicle servicing. Bolts are countersunk for an absolutely smooth bottom, and all nuts are pressed into the steel brackets for easy, one-tool removal. Artec even clearanced the skidplate near the rear drive yoke shaft to prevent rubbing.
Applications: 2007-15 Wrangler JK two- and four-door
Nighthawk Series Bumpers for Wrangler JK
Nighthawk Series Bumpers are contoured for maximum approach angle and tire clearance. They're made right here in the USA from CNC laser-cut and formed steel. The front bumpers are compatible with LED square or OEM round fog lights. Other features include:
• Winch plate made from 1/4 inch thick formed steel for rigidity

3/4 inch thick alloy steel shackle mounts
Internally gusseted for ultimate strength
Front bumper available with or without stinger grille guard
Applications: 2007-16 Wrangler JK
Axle Swap Kits with Trusses
Artec Axle Swap Kits with Trusses are designed to install non-OEM axles in a Jeep. The kits have all of the brackets necessary for a complete swap including upper and lower control arm mounts, shock mounts, anti-sway bar mounts, track bar mount, and coil spring mounts. Welding is required to install the kits.
The kits also include an axle truss that spans the entire length of the axle housing to prevent bent axle tubes and broken mounts. The low profile design helps eliminate interference with other vehicle components. The trusses are also available separately.
Swap Kit Applications

Ford 8.8 axle for Wrangler TJ and ZJ Grand Cherokee, rear
• Ford one ton Dana 60 for Wrangler JK, front
Truss Only Applications

Ford 8.8 and 9 inch
Jeep Dana 30 and 44
Dana 60 and 80
GM 14-bolt
AAM 9.25 and 11.5 inch
Sterling 10.5 inch
Summit Racing also carries Artec Industries suspension brackets, frame kits, shock mounts, and general purpose brackets, tabs, and gussets.
Summit Racing Equipment
http://www.SummitRacing.com
1-800-230-3030