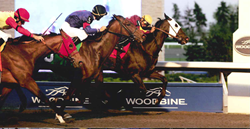 Toronto, ON Canada (PRWEB) April 15, 2016
Triangles Agency has been named digital agency for the Woodbine Entertainment Group (WEG) after an in-depth selection process. The agency will help WEG build a strategic digital blueprint to further grow the Woodbine audience in line with the recently-announced plans for a new, $50 million entertainment and gaming complex slated to happen over the next few years.
"With Woodbine's ambitious plans to expand their entertainment footprint, our involvement made a lot of sense. Our record for attracting and growing specific fan bases digitally will work well for their diverse properties in the areas of sports, horseracing, corporate, restaurants and entertainment," said Reagan Zuzarte, President of Triangles Agency.
"We want a new, younger audience to discover horse racing and digital is effective at targeting millennials" says Paul Lawson, SVP Marketing and Communications. "We also want to continue to generate strong return on marketing investment. Triangles was selected based on their analytical approach and focus on generating revenue."
Results-focused
The collaboration marks a progressive trend in the advertising industry; working partnerships structured to align compensation with performance results across several lines of business.
"We're excited to work with one of Canada's best recognized entertainment organizations" said Ford Shirriff, VP Business Development at Triangles Agency. "Our ability to interpret omni-channel will help us derive and act on insights in near real-time, both intelligently and efficiently. Working towards results is the only way we know how, so a performance based partnership fits well for us."
In addition to the Ontario-based Woodbine Racetrack, Mohawk Racetrack and WEGZ Stadium Bar, Triangles will drive results for overall hospitality, online horseracing platform HPIbet.com and expand the WEG footprint in the USA.
"We're pumped. Triangles and our newly launched LENS ROI Intelligence system will be a key driver to help our collective teams execute precisely and cost-effectively on such an incredible vision," added Zuzarte.
-30-
About Triangles Agency
Triangles is a Toronto-based digital ROI agency who plan, create and execute conversion focused programs geared around actionable data to deliver results. With execution across social, search, display, video, mobile, remarketing, a channel-agnostic approach allows data to decide how to drive the most efficient marketing programs.
Ford Shirriff / Triangles Agency
VP Business Development
ford(at)triangles(dot)net
647.288.1112
About Woodbine Entertainment Group
With roots dating back to 1881, Woodbine Entertainment Group is the largest horse racing operator in Canada, showcasing world-renowned horse racing at Woodbine Racetrack (Toronto), home of the iconic Queen's Plate, and Mohawk Racetrack (Milton), host of the storied Pepsi North America Cup. WEG is the leading member of the Standardbred Alliance and the single operator of Teletheatres and Account Wagering, available through http://www.HPIbet.com, in Ontario. WEG also operates HPItv, a CRTC licensed digital television channel that broadcasts racing into homes across Canada.
http://www.woodbineentertainment.com
Andrew Faria
Sr. Marketing Manager
Woodbine Entertainment Group
afaria(at)woodbineentertainment(dot)com
(416) 675-7223