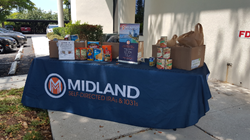 "When everyone pitches in and becomes involved in helping others in our community, we can truly make a positive difference in the lives of others."
Fort Myers, FL (PRWEB) April 14, 2016
The mission of the Harry Chapin Food Bank of Southwest Florida is to overcome hunger through education and by working in a cooperative effort with affiliated agencies in the procurement and distribution of food, equitably and without discrimination. In an effort to assist the community, Midland IRA is helping collect canned food donations for this cause and has invited food trucks to serve food during the collection dates.
The Harry Chapin Food Bank of Southwest Florida has been helping Charlotte, Collier, Glades, Hendry, and Lee counties overcome hunger since 1983. Each month the food bank provides more than 30,000 individuals food through a network of 150 partner agencies. In fiscal year 2015, the Harry Chapin Food Bank provided 15.3 million meals (18.4 million pounds of fresh, nutritious food) by turning every donated $1 into $6 worth of food.
Midland IRA believes active community involvement and giving is crucial to building strong communities. The self-directed retirement plan administrator frequently donates to different local charitable organizations in an effort to facilitate this belief. This month, the firm is proud to assist the foundation in providing canned food for the communities in need within the area. "A couple times a year we hold a food drive like this in an effort to give back to our community," says Dave Owens, president and CEO of Midland IRA. "When everyone pitches in and becomes involved in helping others in our community, we can truly make a positive difference in the lives of others."
Midland IRA invites everyone to help make that difference this year by donating non-perishable items that benefit the Harry Chapin Food Bank.
Items needed most at this time include:

Canned meats and fish
Canned fruit and vegetables
Soups
Breakfast Cereals
Oatmeal
Grits
Rice
Pasta
Boxed macaroni and cheese
Instant mashed potatoes
All items can be dropped off during the month of April at the Midland IRA Fort Myers office, 1520 Royal Palm Square Boulevard, Suite 320, Fort Myers, Florida. MOFOs food truck came to the office on April 12th to serve food and Red Roc Cravings food truck will be there on April 22nd. Food drive donations are accepted and encouraged the 22nd and anytime throughout the month. The staff at Midland IRA plans to deliver the donations at the end of April.
About Midland IRA
Midland IRA is a self-directed IRA administrator that provides tax-deferred and tax-free investment opportunities, superior customer service, and educational tools to assist investors in realizing the maximum benefits possible within IRAs. Midland IRA makes it easy to use self-directed retirement plans to invest in assets that the individual investor knows, understands, and can control. Midland IRA is also a 1031 exchange qualified intermediary. To learn more visit www(dot)MidlandIRA(dot)com.
About Dave Owens
Dave Owens is president of Midland IRA in Fort Myers, Chicago, Miami, Gainesville, New England, and the Florida Panhandle. Owens opened the Fort Myers headquarters in 2003. His background as a certified public accountant, combined with a long history of personal retirement self-direction, provides his audiences and clients with solid advice and practical solutions to their IRA investment questions. Dave holds a BS in accounting from Purdue University. He also earned the prestigious Certified Exchange Specialist designation through the Federation of Exchange Accommodators.