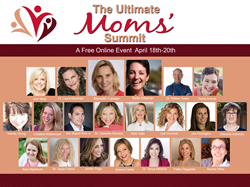 "If you struggle with ANYTHING about being a great mom, I strongly recommend checking out this Summit!" Meredith declares, "Between the 20+ parenting gurus, there's guaranteed to be someone who can help you with your "one thing"!"
(PRWEB) April 15, 2016
Never before have so many great experts on parenting tips, healthy eating, newborn parenitng, and all things mom, come together in one place for a free training. Monday April 18th through Wednesday April 20th, Meredith Canaan hosts The Ultimate Moms' Summit a live training featuring big names like America's Pediatrician, Dr. William Sears of AskDrSears.com, Dr. Tanya Altmann, American Academy of Pediatrics Spokesperson, Dr. Laura Markham of Aha-Parenting, Tosha Schore from Hand in Hand Parenting, Kim West the Sleep Lady® and Deborah Carlisle Solomon RIE® Expert. The Goal: to help moms find that one thing that will make being a mom easier.
It's a free online event that Meredith and her co-host Bette Alkazian are calling The Ultimate Moms' Summit - and when you see the lineup, you'll know why!
The Speakers include:

Dr. Bill Sears: Medical consultant for Baby Talk and Parenting magazines, known as "America's Pediatrician", and founder of the immensely popular health education website AskDrSears.com
Dr. Tanya Altmann: Spokesperson for the American Academy of Pediatrics, author of "Mommy Calls" and "What to Feed Your Baby"
Dr. Laura Markham: Author of "Peaceful Parent, Happy Kids", and "Peaceful Parent, Happy Siblings"; and founding editor of AhaParenting.com
Tosha Schore: Coach, author, educator, speaker, and certified "Hand in Hand Parenting" trainer
Kim West (Aka "The SleepLady®"): Author of "Good Night, Sleep Tight" and Licensed Clinical Social Worker specializing in providing tired parents with excellent sleep advice and coaching
Deborah Carlisle Solomon: Author of "Baby Knows Best: Raising a Confident and Resourceful Child, the RIE® Way"
Don Miguel Ruiz, Jr.: Healer, Toltec Master of Transformation, and author of "The Five Levels of Attachment" and "The Mastery of Self"
Jordan Page: founder of popular blogs FunCheaporFree.com and BudgetBootCamp.com
Rachel Miller: Author of "101 Kids Activities" and "101 Simple Science Experiments" and editor of OneCrazyHouse.com
Lisa Druxman: Author of "L.E.A.N. Mommy", founder of Stroller Strides, and FIT4MOM
Dr. Charlotte Reznick: Author of "The Power of Your Child's Imagination: How to Transform Stress and Anxiety into Joy and Success"
Wendy Young: Licensed Master Social Worker, and Co-Author of "BLOOM: 50 Things to Say, Think, and Do with Anxious, Angry & Over-the-Top Kids"
Pattie Fitzgerald: Author of "NO Trespassing - This is MY Body!" and "Super Duper Safety School: Safety Rules For Kids & Grown-Ups!"
Beth Saltz: Chef and Nutritionist, Founder of Nutrition in the Kitchen, and Co-Author of "What to Feed Your Baby"
Kera Washburn: Author of "When a Diagnosis Changes Everything: A Collection of Stories From Mothers of Special Needs Children"
Christine Waltermyer: Founder and Director of The Natural Kitchen Cooking School and Author of "The Natural Vegan Kitchen"
Jessica Susan Carter: Founder and CEO of Zen Mama, Spiritual Pragmatist, and Spiritual Coach
Jan Pinnington: Founder and CEO of Healthy Hands Cooking, and Nutritional Consultant
Dr. Gayle Friend: Doctor of Human Sexuality, Clinical Sexologist and sex educator
Bette Alkazian: Author of "Parenting Backwards" and "Potty Learning: The Do's, Don'ts, and the Oops of Poops!"
Meredith and Bette are moms who get that a mom's schedule is already overloaded, and they don't want to add to more stress. So to make it clear, it's FINE to just tune in to one or two of the Summit speakers. Parents can browse the topics, and just choose the ones that are immediately relevant, right here, right now.
Learn about the Ultimate Moms' Summit today! http://UltimateMomsSummit.com.
"If you struggle with ANYTHING about being a great mom, I strongly recommend checking out this Summit!" Meredith declares, "Between the 20+ parenting gurus, there's guaranteed to be someone who can help you with your "one thing"!"