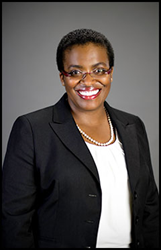 Durham, NC (PRWEB) April 14, 2016
James Scott Farrin Attorney, Pridgen (PJ) Green, spent the week of April 3rd serving as a moderator for the 27th annual National Honda Campus All-Star Challenge (HCASC) in Los Angeles, California, where 48 teams of students from historically black colleges or universities (HBCUs) competed academically for $75,000 in grant money toward the winning team's school. This year's winner was Florida A&M University.
Having participated in this championship herself as a college student from 1998 to 2001, this was Green's second year moderating, and her fifth year volunteering. At this year's national championship, Green was part of more than 100 volunteers who served as game officials, registration conductors, and hosts to the students.
As an undergraduate at Hampton University in Virginia (an HBCU), Green competed in the HCASC from 1998 to 2001. She credits many of her longstanding personal and professional relationships, and much of her professional success, to her HCASC experience.
"HCASC provided me with a social and professional network of people that are highly motivated, inquisitive, intelligent, and ambitious. The relationships I formed at HCASC extend beyond the academic environment, and these former competitors are now among my colleagues in the legal community, contacts in the government and corporate sector, and my closest friends (including my husband whom I met at HCASC). I continue to moderate and volunteer because historically black colleges and universities have a wealth of motivated and intelligent students, and I am proud to work alongside the Honda Campus All Star Challenge program, College Bowl, and American Honda to help support and encourage students to achieve their dreams."
The HCASC season is a year-round endeavor and begins during the fall semester. Power search quizzes given across campus where students learn, gather, study and live, help identify the candidates. Then, HBCUs hold campus tournaments and form their HCASC club. Practice sessions commence, with an emphasis on knowledge acquisition and team building. Subsequently, teams attend national qualifying tournaments, after which the "Great 48" teams are selected to compete nationally.
HCASC moderators need to prepare too, according to Green. She said, "To prepare for the National Championship Tournament, I moderated a national qualifying tournament hosted by North Carolina Central University in Durham. It means a lot to me that the Law Offices of James Scott Farrin encourages attorneys to volunteer throughout their communities, and not only supports my involvement with the program, but the important mission of historically black colleges and universities."
ABOUT THE LAW OFFICES OF JAMES SCOTT FARRIN
The Law Offices of James Scott Farrin is headquartered in the American Tobacco Historic District, adjacent to the Durham Bulls Athletic Park, in Durham, North Carolina, with 13 additional offices statewide in Charlotte, Fayetteville, Greensboro, Greenville, Goldsboro, Henderson, New Bern, Raleigh, Roanoke Rapids, Rocky Mount, Sanford, Wilson, and Winston-Salem. The firm's 38 attorneys focus on the following practice areas: Personal Injury, Workers' Compensation, Social Security Disability, Eminent Domain, Intellectual Property, Civil Rights, Mass Torts, and Products Liability. Six of the attorneys are North Carolina Board Certified Specialists in Workers' Compensation Law and one is a North Carolina Board Certified Specialist in Social Security Disability Law. The Law Offices of James Scott Farrin is involved in the community, including sponsorship of local philanthropic organizations and an active employee matching donation program.