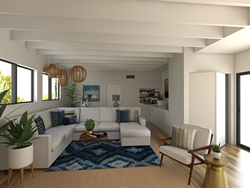 This is a first step at immersing the customer in an entirely new and exciting decorating experience
San Francisco (PRWEB) April 14, 2016
Decorist (http://www.decorist.com) the provider of online interior design services and furniture ecommerce, is now offering its customers the ability to see their room makeover in 3D before they purchase a single item of new furniture or paint their room, for $99.
The Decorist marketplace is connecting consumers to designers and furniture sellers in an affordable, accessible way. By personalizing design advice and furniture discovery tailored to a consumer's style, and now the ability to see how it all looks together in their own room with a highly realistic, photographic-like 3D visual, the evolution of furniture ecommerce is clear. "All of a sudden, we can provide a nearly photographic visual of your new room, complete with furniture and accessories--it is a very powerful medium that will unlock furniture ecommerce in a huge way", declares Gretchen Hansen, Founder and CEO of Decorist.
The Decorist process is simple, a consumer buys a design package and a $99 3D rendering upgrade, uploads 4 pictures from their mobile phone taken from the four corners of the room, a floor plan and an idea of their style and budget. One of Decorist's professional interior designers starts to work directly with the consumer via the Decorist platform to produce 2 initial design style concepts. The iterative process continues until the design reaches final and the Decorist 3D rendering service converts design with furniture products, accessories and paint into a 3D model and rendering, and shares the experience with the customer. The result? An exact replica that is almost photographic, of what their own room would look like with the new design and furniture. The consumer can then choose to purchase the products on Decorist – a personalized one-stop design, 3D rendering and purchasing destination.
"This is a first step at immersing the customer in an entirely new and exciting decorating experience", says Hansen. Next step? Decorist is rapidly working on technology to convert the rendering into VR, where "the immersive nature is addicting-anyone who loves home design will go absolutely crazy for this", says Hansen. For now, consumer testing indicates the 3D rendering has a dramatic impact on a consumer's willingness and excitement to purchase furnishings.
"I was amazed at how realistic my room design looked-like a photo-and it really helped me to get over the hump of deciding which pieces to choose" says actress Jamie Chung who recently redid her living room with Decorist.
About Decorist
Launched in mid 2014, Decorist has emerged as a leading online interior design platform with over 250,000 members and thousands of customers completing room makeovers-100% virtually through the site platform. Decorist has integrated partnerships with some of the world's best and largest home furnishings retailers, including Lowe's, ATGstores, Dwell, One Kings Lane and many others. Decorist's Average Order Value is 10x the average of online furniture retailer.