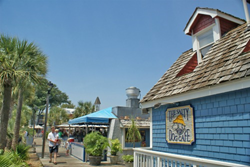 March 2016 figures from the U.S. Census Bureau report Beaufort County as one of three communities in South Carolina among the 20 fastest-growing metro areas in the nation, which is creating a surge of home sales in the area.
Bluffton, SC (PRWEB) April 14, 2016
Marian Schaffer, Principal and Founder of Southeast Discovery, a real estate consulting firm specializing in guiding Baby Boomers with their real estate needs in the niche markets of retirement relocation and second homes in the Southeast region, recently commented on Beaufort County, South Carolina's robust expansion over the last decade and its impact on the local real estate market.
"2010 U.S. Census figures revealed a 34.1 percent growth in this area in the decade of 2000 to 2010, more than doubling the population in less than thirty years," Schaffer noted. "March 2016 figures from the U.S. Census Bureau report Beaufort County as one of three communities in South Carolina among the 20 fastest-growing metro areas in the nation." Beaufort County's 2.6 per cent growth was second to the 3.5 per cent growth in Myrtle Beach; Charleston was the third state metro area on the list with a 2.4 per cent growth.
According to the Census Bureau, most of the population increase from 2010 to 2013 occurred on Hilton Head Island which added 2,300 people. Bluffton gained 628 people, and the city of Beaufort gained 524. In January 2015, these areas experienced an increase of about 5,000 more workers than the previous January according to the area's Lowcountry Council of Governments.
Much of the increase in population can be traced to the Baby Boomer exodus from colder climates, which is helping drive construction and real estate sales. Adding to this dynamic are service members at the military bases in Beaufort, who often stay upon completion of their service obligation and settle in the area. Beaufort County's strong tourism segment also draws repeat visitors, many of whom eventually choose Beaufort County as a relocation area.
Suburbanstats shows the 2015 and 2016 median age as 40 in Beaufort County as a whole, 32 in Bluffton and 50 on Hilton Head Island reflecting an influx of younger people being attracted to the area for jobs. And as a result, more and different kinds of services, retail and entertainment geared to a younger audience are adding to the growth of the area.
With the draw of the Hilton Head Island beaches, numerous waterways and golf courses, as well as a favorable climate, cost of living and general quality of life, the Southern Beaufort County metro area has long been a compelling retirement and relocation destination, according to Schaffer. Bluffton, SC ranked as one of the best 25 places to retire by Forbes in a recent 2016 list.
"Because of its desirable location and its reputation as a sought after retirement destination, Southern Beaufort County is experiencing a resurgence of luxury homes sales in the $500,000 plus range due to pent up demand," Shaffer noted.
In 2012, Bluffton ranked seventh on financial consumer website Nerdwallet's top 10 areas on the rise in South Carolina. Population, employment and income growth were used to generate the rankings using five-year estimates data from the 2012 U.S. Census survey. Bluffton's high score was aided by a 29.64 per cent increase in working age population from 2009 to 2012. It also topped the list with 68.1 percent of its labor force employed in 2012.
Nerdwallet also named Bluffton as the second best place in South Carolina for home ownership in 2014. According to area realtors in southern Beaufort County, there is a shortage of single-family residential homes under $350,000 in Bluffton with most single-family residential homes selling within 30 days. Tract homes in the $300,000 price point in Beaufort have been very active, too. The Okatie area between Bluffton and Beaufort is particularly suited for growth because of its location between both sides of Beaufort County as well as to Interstate 95.
Not surprisingly, the county's school district is growing by 300 to 600 students annually, according to Superintendent Jeff Moss. As a result, Bluffton opened River Ridge Academy recently and the new May River High School opens in the fall of 2016. The district also set aside land for a new elementary and middle school on the May River campus. Schools are not the only thing to expand. Beaufort Memorial Hospital expanded its emergency room two years ago due to the population growth and increased access to health insurance, according to spokeswoman Courtney McDermott.
"As the nation's economy strengthens, so does buyer confidence, so people can finally relocate south as their homes sell in other markets. We're witnessing continuing improvement in roads and other infrastructure to accommodate the growth with more plans in the works," says Schaffer. "We anticipate strong sales and increases in median pricing through 2016 in southern Beaufort County," she adds.
About Southeast Discovery
Since 2004, Southeast Discovery has been a trusted resource for candid information and insight on communities, developments, and general real estate in the Southeast. Through its highly-ranked web portal, newsletter and blog and its one-on-one work with clients, Southeast Discovery helps buyers actively looking for a retirement or second home in the Southeast navigate the process of identifying the right area and community for their needs. To learn more, visit http://www.southeastdiscovery.com/.