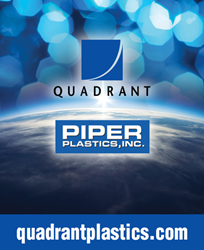 The acquisition will add two additional manufacturing facilities… broadening Quadrant's already extensive global footprint.
Reading, PA (PRWEB) April 14, 2016
Quadrant, a leading global manufacturer of high-performance thermoplastic materials, announces the acquisition of Piper Plastics, Inc. for its global Engineering Plastic Products (QEPP) business unit. On April 1st, 2016 a subsidiary of Quadrant AG (Lenzburg, Switzerland) entered into a Share Purchase Agreement with Piper Plastics, Inc. (Libertyville, Illinois) to acquire all outstanding shares of Piper Plastics. The transaction is expected to close in the next weeks subject to governmental approval.
With the addition of Piper Plastics, both companies can capitalize on their synergies in the engineering polymer industry as Piper Plastics will leverage Quadrant's continually expanding, world-wide network of industry partners and customer relationships while bringing new technologies, specialized skills and market expertise into the group.
The acquisition enhances Quadrant's ability to incubate and develop new business, pursuing its mission of metal to plastic conversion, which began more than 80 years ago. Quadrant, a fully owned subsidiary of Mitsubishi Plastics, Inc. (Tokyo, Japan), identified Piper as leaders in their areas of expertise and plans to preserve Piper's unique market identity. Strategic corporate development activities, such as the Piper acquisition, contribute to Quadrant's ability to grow rapidly and consistently while maintaining quality and innovation.
For more than 30 years, Piper Plastics has excelled at providing advanced engineering plastic solutions via unique polymer conversion technologies and precision machined engineering plastic components and assemblies in North America (Arizona, Illinois) and Asia (Thailand). Piper serves a diverse customer base in the Medical, Semiconductor, Aerospace/Defense, Energy and Food Packaging industries.
Both Quadrant and Piper Plastics adhere to a superior level of quality and performance standards. The acquisition will add 2 additional manufacturing facilities to Quadrant's already established 5 U.S. facilities along with their Thailand facility, broadening Quadrant's already extensive global footprint.
"Piper has an impressive history of overcoming the barriers that limit the use of engineering polymers in demanding applications. They have demonstrated an extraordinary ability to formulate, qualify, and produce products that meet the performance and cost targets that customers demand. These capabilities are essential to our mission and will add tremendous value for Quadrant and our stakeholders." said Glen Steady, Quadrant EPP President and CEO.
"Quadrant's material innovations and global market presence perfectly compliment Piper. We've built a strong global customer base on our high-performance polymer materials through vertical integration and collaboration. Joining Quadrant's global supplier and sales network will allow us to explore new markets, expanding our growth potential." said Randy White, President and CEO Piper Plastics. "This is an exciting opportunity for our company and our customers."
About Quadrant
Quadrant is the leading global manufacturer of high-performance thermoplastic materials in the form of semi-finished products and finished parts. The company has locations in 20 countries and more than 2,000 employees. Its specialty engineering thermoplastics and composites are superior in performance to metals and other materials and are used in a wide range of applications, primarily in the capital goods industry. The company is continuously developing new areas of applications in close cooperation with industry leaders in a broad variety of customer markets. For more information, please visit http://www.quadrantplastics.com.
About Piper Plastics
Piper Plastics provides a high-tech and diversified customer base with complete solutions to their engineering and finished component needs by blending advanced manufacturing technologies with state of the art polymer science. Piper Plastics is recognized globally as a leading source for high performance polymer materials and for precision machined and injection molded components, with facilities in Chandler, AZ, Libertyville, IL, and Rayong, Thailand. For more information, please visit http://www.piperplastics.com.
Media Contact:
Kim Imes, Marketing
kim.imes(at)qplas.com | 610.320.6709