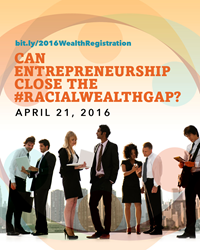 Washington, D.C. (PRWEB) April 13, 2016
Closing the racial gap in privately held firms with employees would add millions of jobs and hundreds of billions of dollars in worker income to the U.S. economy, an upcoming report from the Center for Global Policy Solutions finds.
The report will be released on April 20 at a news conference to set the stage for the 2016 Color of Wealth Summit on strengthening entrepreneurship and economic development in communities of color on April 21 at the Capitol Visitor Center.
WHAT: News conference for the release of the report, "The Color of Entrepreneurship: Why the Racial Gap among Firms Costs the U.S. Billions"
WHERE: Rayburn House Office Building, Room 2247
WHEN: April 20, 2016, 9:30-10:30 a.m. EDT
WHO:

Hon. Brenda Lawrence, Member, U.S. House of Representatives
Algernon Austin, Senior Research Fellow, Center for Global Policy Solutions
Maya Rockeymoore, President and CEO, Center for Global Policy Solutions
WHAT: 2016 Color of Wealth Summit
"The Inclusion Revolution: Race, Economic Mobility, and The Future of America"
AGENDA: bit.ly/2016WealthSummitAgenda
WHERE: U.S. Capitol Complex, Congressional Auditorium
WHEN: April 21, 2016; 9:00 a.m.-3:15 p.m. EDT
WHO:

Hon. Elizabeth Warren, Member, U.S. Senate
Hon. G.K. Butterfield, Chair, Congressional Black Caucus
Hon. Ted Lieu, Member, U.S. House of Representatives
Brandon Andrews, Values Partnerships
Michael S. Barr, University of Michigan Law School
Gil Berry, Gil Berry and Associates, Inc.
Janis Bowdler, JPMorgan Chase Foundation
Alejandra Castillo, Minority Business Development Agency
Natalie Madeira Cofield, Walker's Legacy
Héctor Cordero-Guzmán, City University of New York
Gary Cunningham, Metropolitan Economic Development Association
Connie Evans, Association for Enterprise Opportunity
Christy Finsel, Oklahoma Native Assets Coalition
Jerry Nemorin, LendStreet
Janell Ross, The Washington Post
Jamal Simmons, The Raben Group
Patricia Smith, The Reinvestment Fund
Ray Suarez, Al Jazeera America
###
The Center for Global Policy Solutions is a 501(c)(3) think tank and action organization that labors in pursuit of a vibrant, diverse, and inclusive world in which everyone has the opportunity to thrive in safe and sustainable environments.
Contact:
Simona Combi, 202-265-5111, simona(at)globalpolicysolutions(dot)org
Adam Shapiro, 202-427-3603, Adam.Shapiro(at)ASPR(dot)bz