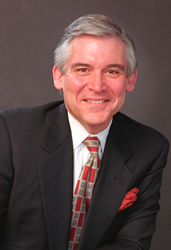 If the utility model I knew in 1970 was a centimeter wide, today it is a meter wide at least. Fortunately, all of these changes bring with them substantial opportunities. To capitalize on those opportunities, however, requires open-mindedness.
Glen Allen, VA (PRWEB) April 14, 2016
The U.S. energy industry is undergoing changes that can be frustrating for utility executives who remember simpler times. However, those who are willing to listen to their customers and adapt stand to prosper in the years ahead, longtime energy industry executive and attorney Roy Palk advises in a column in the April issue of Public Utilities Fortnightly.
"By diving into today's more diverse energy sector and embracing change, utilities stand to benefit over the long term," writes Palk, a 46-year veteran of the business, now a Glen Allen-based senior energy advisor at national law firm LeClairRyan. "This is precisely why I am so excited about the future, even if I do occasionally look back wistfully on the past."
In the column, "An Industry Transformed: Looking back at my 45 years in the energy sector," Palk provides an overview of major changes that have reshaped the industry since he first joined a Tennessee Valley Authority-served electric cooperative back in 1970. Both the EPA and the Clean Air Act arrived during his first year on the job, he writes, and two years later Congress passed sweeping amendments to existing laws to create the Clean Water Act.
In the 1990s, Palk served as assistant general manager (and corporate counsel) of the National Rural Electric Cooperative Association and, later, as president and CEO of the East Kentucky Power Cooperative. As he describes in the column, it was a time of further-tightening regulations and other changes. However, the industry was able to adapt by embracing next-generation scrubbers and precipitators, employing low-sulfur coal and launching new, more efficient plants with lower-emission technologies integrated from the outset.
By the mid-2000s, the subject of climate change was becoming increasingly important to the national dialogue, he writes. "For the industry, this was a true turning point," Palk notes in the column. "More and more, we started to hear the term 'dirty coal.' With dwindling supplies in central Appalachia, which was such a big supplier to the Midwest and Southeast, in particular, coal was becoming more expensive to mine."
All of this amounted to a kind of tailwind for horizontal drilling and today's ramped-up natural gas production, Palk writes. "Thanks to the greater supply and growing stability of the natural gas market, the United States began the process of 'doubling down' on natural gas as a power source," he explains. Meanwhile, the energy sector experienced a burst of innovation as technology startups, university researchers and others began to push the envelope on the likes of solar, wind, biogas, waste wood and more. As a result, today's industry faces significant questions and challenges related to uncertainty about natural gas prices; energy infrastructure needs; customer concerns, and out-of-date regulations.
"If the utility model I knew in 1970 was a centimeter wide, today it is a meter wide at least," Palk writes. "Fortunately, all of these changes bring with them substantial opportunities. To capitalize on those opportunities, however, requires open-mindedness—a willingness to let go of out-of-date thinking."
In particular, he advises, utilities need to focus on serving customers in a marketplace that presents them with more choice than ever. "Whether you are a municipal, cooperative or investor-owned utility, the consumer ultimately has the club," Palk writes. "Consumers influence policymakers, regulators and legislators in fundamental ways. We should listen to them."
The full column is available at: https://www.fortnightly.com/fortnightly/2016/04/industry-transformed?authkey=c9b243f32b4202ba1f1206a04f619e38cd3821c572a66c1b05c4414e982f9be5
About LeClairRyan
As a trusted advisor, LeClairRyan provides business counsel and client representation in corporate law and litigation. In this role, the firm applies its knowledge, insight and skill to help clients achieve their business objectives while managing and minimizing their legal risks, difficulties and expenses. With offices in California, Colorado, Connecticut, Delaware, Georgia, Maryland, Massachusetts, Michigan, Nevada, New Jersey, New York, Pennsylvania, Texas, Virginia, and Washington, D.C., the firm has approximately 390 attorneys representing a wide variety of clients throughout the nation. For more information about LeClairRyan, visit http://www.leclairryan.com.
###
Press Contacts: At Parness & Associates Public Relations, Bill Parness, (732) 290-0121, bparness(at)parnesspr(dot)com