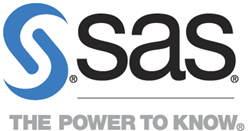 Cary, NC (PRWEB) April 13, 2016
Unparalleled professional development and networking combine for a winning hand next week at the Venetian Las Vegas. That's where over 5,000 data enthusiasts from more than 50 countries will flock to SAS Global Forum, the world's premier advanced analytics conference.
For those unable to attend the year's largest gathering of SAS users, the SAS Global Forum 2016 live and on-demand portal brings the event to them. Tens of thousands will tune in for sessions and presentations representing the best of the conference. The live stream schedule includes the conference's top speakers:

SAS founder and CEO Jim Goodnight unveils the next generation of software innovations from the global analytics leader (Tuesday, April 19, 10 p.m. ET).
Tech entrepreneur and New York Times best-selling author Ben Casnocha presents "The Start-Up of You" (Wednesday, April 20, 11 a.m. ET).
Altimeter Group's Brian Solis delivers "The Future of Brand Is Experience" (Wednesday, April 20, 12:15 p.m. ET)
Arianna Huffington, founder and president of Huffington Post Media group, presents "Redefining Success: The Third Metric That Can Benefit Your Bottom Line" (Wednesday, April 20, 1:30 p.m. ET)
Info design guru David McCandless discusses "Data Visualization: Changing the Way We See the World" (Wednesday, April 20, 5:15 p.m. ET).
Susan Cain, author of the New York Times best-seller Quiet: The Power of Introverts in a World That Can't Stop Talking, covers "A Quiet Revolution: Changing How We Work, Lead and Innovate" (Thursday, April 21, 11:30 a.m. ET).
Come for the learning, stay for the party
As big data raises the stakes in big business, it's all about finding a competitive advantage. SAS Global Forum attendees can customize agendas around the conference theme, "Imagine. Create. Innovate," in two distinct tracks:
Users program: Analytics professionals representing more than 1,000 companies will sharpen their skills with content created for users by users. SAS experts from Accenture, Bank of Montreal, Blue Cross Blue Shield of Arizona, Delta Air Lines, DirecTV, eBay, Mayo Clinic, Oklahoma State University, Teradata, the US Census Bureau, and Wyndham Exchange and Rentals are among those leading hands-on workshops, table talks and interactive presentations.
Executive program: Business leaders will explore the intersection of leadership and big data analytics with content tailored to senior executives (director level and above). They'll hear from peers at leading global organizations like Amica Insurance, Dignity Health, Emerson Electric, Ford Motor Co., the Kellogg Company, Kelley Blue Book, Red Hat, SunTrust Bank, Telefónica, Walmart and more.
And just to be sure fun doesn't get lost in the shuffle, SAS will host a Kick Back Party at the Brooklyn Bowl, where attendees will enjoy food, libations and bowling. The entertainment culminates with a live performance from Capital Cities, the indie pop duo behind the chart-topping single "Safe and Sound."
Register today!
Online registration is open through Sunday, April 17. On-site registration begins Monday, April 18. Walk-ins can register for the full conference or purchase single-day passes (for Tuesday, Wednesday or Thursday). Options and fees are available online.
Participate virtually
In addition to live streaming and on-demand content starting at 11 a.m. ET on Tuesday, April 19, SAS fans can engage with SAS Global Forum via social media:
Blogs: Read reports from sessions, view video updates and hear from SAS and customer experts on blogs.sas.com.
Twitter: Follow @SASsoftware and the hashtag #SASGF.
Facebook: Like SAS Software to receive updates.
LinkedIn: Keep up on the SAS company and SAS Users Group pages.
Diamond Sponsors for SAS Global Forum are Accenture, EY and Teradata. Emerald Sponsors are Cloudera, Dell, EMC, Intel and SaasNow. All sponsors will exhibit in The Quad, formerly the SAS Support and Demo Area.
About SAS
SAS is the leader in analytics. Through innovative analytics, business intelligence and data management software and services, SAS helps customers at more than 80,000 sites make better decisions faster. Since 1976, SAS has been giving customers around the world THE POWER TO KNOW®.
SAS and all other SAS Institute Inc. product or service names are registered trademarks or trademarks of SAS Institute Inc. in the USA and other countries. ® indicates USA registration. Other brand and product names are trademarks of their respective companies. Copyright © 2016 SAS Institute Inc. All rights reserved.