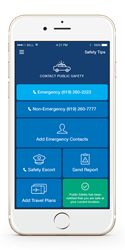 What we've found in designing SafetyCheck for students is that we really had to think of how millennials move about their day
San Diego, CA (PRWEB) April 14, 2016
In response to the growing demand for safety awareness on campuses nationwide, USD releases SafetyCheck, a bundle of powerful safety features in the USD Mobile App and Student Portal making it easier for USD students to update emergency contacts, learn safety tips, add travel plans, or request a safety escort simply with the push of a button.
With 5,000+ users on campus, MySDMobile App is the most popular USD mobile app to date. Students already turn to the MySDMobile App to check tram times, view their grades, look up their class schedule, and receive campus messages.
These new SafetyCheck features were designed with students in mind so that they can access safety tips and campus safety resources wherever they are, and on any device.
With USD SafetyCheck, students will also be able to:

Call Public Safety if they need assistance or are in an emergency
Register side trips while studying abroad
Press the safety check button to notify USD that they are safe during an emergency event
Store their emergency contact information for easy access to first responders in an emergency
Students can request a safety escort directly from the app while walking across campus at night, and check out safety tips to make sure they are safe wherever they are – at home, on campus, and abroad. They can also submit a safety concern if they see anything suspicious like a pothole or a break-in just by taking a picture with their smartphone, tagging a location, and sending a short description.
Safety among college students is a national interest, and a top priority on university campuses today. USD SafetyCheck makes connecting with safety tips and campus safety resources more engaging and accessible.
"What we've found in designing SafetyCheck for students is that we really had to think of how millennials move about their day – and how they would connect with certain campus safety resources in a more user-friendly way," says Avi Badwal, senior director of enterprise technologies department at University of San Diego.
"We are very proud to partner with Public Safety to create SafetyCheck, making it easier for our students to get the assistance they need in the moment they need it the most," says Chris Wessells, vice provost and chief information officer at the University of San Diego.
ABOUT THE UNIVERSITY OF SAN DIEGO
The University of San Diego is a Catholic institution of higher learning committed to teaching, the liberal arts, the formation of values and the creation of ethical leaders. Chartered in 1949, the school enrolls approximately 8,300 undergraduate and graduate full-time equivalent students. The University of San Diego has a long history of public service and is recognized as a Changemaker Campus by Ashoka, the global association of the world's leading social entrepreneurs. The university's eight academic divisions include the College of Arts and Sciences, The School of Business Administration, The Shiley-Marcos School of Engineering, The School of Law, The School of Leadership and Education Sciences, the Hahn School of Nursing and Health Sciences, The Joan B. Kroc School of Peace Studies, and the Division of Professional and Continuing Education.