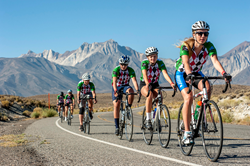 Mammoth Lakes, CA (PRWEB) April 14, 2016
Many of the most successful endurance athletes of this generation have spent time training in Mammoth Lakes. Now, they're coming to the Eastern Sierra town to compete as well.
"I suppose it was only a matter of time," said John Urdi, Mammoth Lakes Tourism's Executive Director. "You have some of the biggest names in a number of sports coming to Mammoth Lakes to live and train, it's only natural that race and event organizers would follow, and they have in a big way."
It's easy to see why Olympic medalists such as U.S. Women's Marathon record-holder Deena Kastor and Meb Keflezighi call Mammoth Lakes home. An incredibly supportive community, jaw dropping scenery, an expansive trail system and world-class facilities combine to make Mammoth Lakes unique.
Those same attributes make Mammoth Lakes an ideal venue for races that appeal to a wide cross section of athletes. From the gravity-fueled mayhem of the Kamikaze Bike Games, which celebrate Mammoth Mountain's history as the birthplace of lift-accessed mountain biking, to the Mammoth Half Marathon, which follows a training route that's led some to the Olympics, Mammoth Lakes' race calendar offers something both for the world's elite distance athletes and those just looking for some friendly fun in the mountains.
● Mammoth Half Marathon & 5K (June 19) The sister race of the iconic San Diego Half Marathon, the Mammoth Half Marathon has quickly become a favorite among elite and amateur runners since it started in 2013. The course itself begins along picturesque Horseshoe Lake, rewarding participants as it traverses the shorelines of the other lakes in the Mammoth Lakes Basin before descending into town for a rowdy finish line and post-race party. Like several of the races on this list, the Mammoth Half is a non-profit, with 100% of the proceeds committed to local community service projects and charities.
● June Lake Triathlon (July 9) Dubbed "the toughest race in the most beautiful place," the June Lake Triathlon lives up to both those promises. With several course distances, including a Half Ironman (1.2 mile swim, 50 mile bike, 13.1 mile run), Olympic distance (1500m swim, 25 mile bike, 6.5 mile run) and a Sprint course (400m swim, 8 mile bike, 2.25 mile run), competitors can bite off as much beauty and pain as they want. All three courses run alongside the shores of June Lake, just outside of Yosemite's Eastern gateway.
● USA Cycling Mountain Bike Nationals (July 12-17) For the second year in a row Mammoth Lakes will play host to the USA Cycling mountain biking national championships. Champions are crowned in several disciplines, including downhill, cross-country, enduro and dual slalom. It's a fitting venue for crowning the nation's best, and in an Olympic year there's a little extra on the line.
● Bodie Bowl (August 21) One of the most unique mountain bike races in the country, the historic ghost town of Bodie provides an unforgettable setting for a start/finish line. Once a booming gold rush settlement, Bodie is one of the most well-preserved ghost towns in the west.
The race features two courses, a 50k with 2500 ft. of climbing and a 30k, both tracing the gently undulating lines of the 'bowl' that surrounds the town on a combination of single and double track. The majority of the participants ride mountain bikes, but the course can be ridden on a cyclocross or gravel bike as well.
In order to help preserve this amazing piece of living history a portion of the proceeds from the race benefit the Bodie Foundation.
● Mammoth Gran Fondo (Sept. 10) When the Mammoth Gran Fondo rolls out of Mammoth Lakes in early September it will take cyclists on a journey past 13,000 foot mountain peaks, ancient volcanic craters, and Mono Lake, known for its extremely rare tufa formations, on one of the most spectacularly scenic routes in North America. This year, 75 miles of the ride will be closed to through traffic.
Now in its 23rd year, the Mammoth Gran Fondo isn't resting on its laurels. New for 2016 a team category will allow groups of three or more to compete for shared honors and newly implemented King and Queen of the Mountain awards will offer some added incentive on the climbs.
● Kamikaze Bike Games (Sept. 15-18) In the 80's Mammoth Mountain hosted the first ever, lift-accessed mountain biking race. Back then it was just a couple renegades on suspension-less bikes wearing football shoulder pads and soccer shin guards.
The sport has come a long way since then, but no other event on the mountain biking calendar speaks to the soul of those first couple guinea pigs quite like the Kamikaze Bike Games. Bridging the sport's past and present into a weekend of two-wheeled shenanigans, KBG is on the bucket list of any mountain biker who has as much fun on a bike as they do off it.
New this year, the Kamikaze Bike Games will be part of the North American Enduro Tour, and a qualifier for the Enduro World Series. The downhill race is also the final of both the men's and women's USA Cycling's Pro GRT race series.
In addition to the major events listed above, every week there is something going on in Mammoth Lakes, whether it's a group run or ride or a town race series event. The Mammoth Lakes Crib is a great resource for connecting into the local scene.
Check http://www.visitmammoth.com/ for more information and to get started booking a Mammoth Lakes vacation.