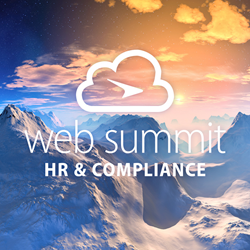 "Participation in our most recent Web Summit shows the appetite for information on the changing dynamics of HR practice,"
Cincinnati, Ohio (PRWEB) April 18, 2016
Paycor held a free Web Summit in March that educated thousands of HR practitioners on timely topics of interest in HR and compliance, revealing the most pressing issues for employers.
"Participation in our most recent Web Summit shows the appetite for information on the changing dynamics of HR practice," said Jennifer Bellin, Paycor's vice president of marketing. "Through our frequent Web Summits and webinars, Paycor continually prepares employers through education and insights on the challenges they face."
Web Summit registrants came from 46 U.S. states, and just under 50 percent were current Paycor clients. The most popular webinars in terms of registrants and active discussion from the Summit reflect the current hot topics in HR and compliance:
DOL Overtime Changes: Changes to the Fair Labor Standards Act (FLSA)'s overtime exemption thresholds for white collar and highly compensated employees are looming, with the latest estimates calling for new regulations as early as July. Employers should be tracking their employees' hours now to know exactly how many hours their employees are working.
Criminal Checks: "Ban the Box" laws are now effective in 18 states, and other states and local municipalities (such as the city of Austin, TX) continue to ban the criminal record question on job applications. Companies should eliminate this question from their job applications to ensure ongoing compliance.
Mobile Recruiting: Converting today's candidates to hires necessitates a pivot to mobile recruiting for employers big and small. A recent survey by Kelton revealed that 70% of active applicants would prefer to apply for jobs via mobile, but the majority of employers are not equipped to handle mobile applicants.
ACA Compliance: Employers will report on their compliance to the Internal Revenue Service by May 31 or June 30. The work continues to ensure compliance for 2016, and to keep track of the ongoing changes ahead through the Protecting Americans from Tax Hikes (PATH) Act.
To view past webinar content, visit paycor.com/summit.
###
About Paycor
People are at the core of Paycor. Serving more than 30,000 small and medium-sized organizations, Paycor is known for delivering amazing client experiences combined with modern and intuitive HR and payroll solutions. Paycor's personalized support and intelligent technology ensure that key business processes, including timekeeping, reporting, onboarding, and recruiting, run smoothly across your business. Paycor is the trusted partner for brokers, bankers and CPAs. Learn how Paycor can advance your business by connecting with us at http://www.paycor.com.