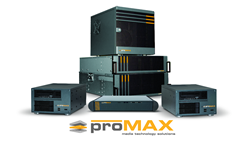 Today's media professionals have to be technologists to be efficient. Our goal with Platform is to take the complexity out of the process with an end-to-end solution that has One Browser, One Login, One Integrated Catalogue.
Las Vegas, Nevada, NAB Show Conference, Booth SL3825 (PRWEB) April 18, 2016
ProMAX Systems, world leader in integrated workflow technology for media organizations, today announced Platform Version 5, a game changing release in its award winning Platform Workflow Server line. With robust, user managed features from ingest to archive, all in one single unit, Platform Version 5 sets a new standard of efficiency for production workflows.
Designed for video professionals who want to accelerate and enhance the creative process, the Platform Server family scales easily for workgroups of all sizes, is simple to deploy, and with Native Support for Active Directory, integrates seamlessly with existing IT infrastructure. The entire Platform family features powerful shared storage that is optimized for video workgroups using Adobe Premiere, Avid Media Composer, Apple's Final Cut Pro and other creative software applications. With the Platform V5 Release, media professionals will have the ability to render, transcode, manage and share media assets, backup and archive all in one simple-to-use, workflow server unit, fully backed and supported by ProMAX's world renowned ProCARE.
"In today's digital media world, workflows have gotten extremely complex," explained Jess Hartmann, CEO, ProMAX Systems. "Today's media professionals have to be technologists to be efficient. Our goal with Platform is to take the complexity out of the process with an end-to-end solution, that has One Browser, One Login, One Integrated Catalogue giving creatives more control and easily integrates into their existing workflow."
ProMAX Platform's V5 brings fully integrated Backup and Archival functionality to the entire Platform product line, as well as major advancements to the Asset Management functionality including streamlining workgroup collaboration between multi-platform systems. Also new in Platform V5, integration for Adobe® Premiere® Pro CC, a key component of Adobe Creative Cloud®. With the ability to utilize the Platform GUI interface directly from within Adobe Premiere Pro CC, editors can mount volumes, search, transcode, and even archive and restore files from LTO tapes directly from the NLE itself.
Other significant features include user managed transcoding capabilities and the ability to recover both deleted files and previous versions of files through data 'Snap Shots'.
Platform V5 Features
1. One-Integrated-Catalogue tracks files, folders and metadata from ingest to archive.
2. Enhanced Media Asset Management System including automatic metadata indexing on volumes, folders and files, user definable metadata values, advanced searching and saved searches.
3. Integrated LTO Tape System for Full Backup, Incremental Backup, and Archive, MD5 Checksum, pre-generate proxies before archiving.
4. Platform integration for Adobe Premiere Pro CC access the Platform GUI and search the One-Integrated-Catalogue directly from within Adobe Premiere Pro CC editing environment.
5. User managed transcoding, including encoding from R3D and more, and the ability to create custom encoding formats.
6. Storage Group Snapshots allow users to look back in time and find previous versions of files or projects for recovering a missing file or reverting back to an older copy.
7. Multi-File select including move, copy, update metadata, backup, archive, transcode and proxy generation.
8. Project Locking or File locking prevents overwriting or modification of a file.
9. Data Management upgrades including recurring copies, cloning, and deep folder management.
10. Task Sub System upgrade includes setting priorities, filtering task types, and user Task Notifications.
11. CPU Resource control on individual nodes for Transcoding, Rendering and Proxy Generation.
Platform V5 ships June 15, 2016. For more on ProMAX Platform V5 Workflow Servers visit http://www.promax.com.
Visit ProMAX Systems at NAB 2016 at the Las Vegas Convention Center, South Lower, Booth SL3825, for more product announcements and demonstrations.
About ProMAX
ProMAX is the world leader in integrated workflow technology for creative media organizations. For over 20 years, we've built a worldwide client base of tens of thousands of customers, helping them find the most efficient, cost effective and reliable solutions to solve their production challenges with our range of workflow servers, workstations and archiving technology. From ingest to edit, from playout to archive, we've evolved our thinking to focus on the real needs of our customers – bringing everything they need together in a truly integrated solution. Whether they are creatives working in Film/TV, broadcast, post production, education, government, corporate or other industries, our customers trust ProMAX to be at the heart of their creative process. Visit http://www.promax.com for more information.