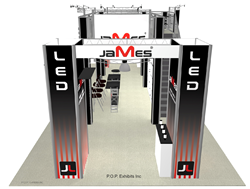 Don't forget your sunglasses for this show!
San Diego, CA (PRWEB) April 15, 2016
P.O.P. Exhibits Inc. is preparing to electrify the LightFair International (LFI) 2016 Show in San Diego. With some unique pre-show preparation, set up and product wiring, a unique trade show exhibit will be ready in time to illuminate and introduce new lighting products to show attendees.
P.O.P. is celebrating 21 years in business with an expansion of their nationwide Double Deck Exhibit rental program into San Diego and other show venues across the country.
LightFair will be held April 26-28 at the San Diego Convention Center and is expected to attract over 28,000 design, lighting, architectural, engineering and energy professionals from around the world. There will be 500 of the world's leading manufacturers exhibiting at the show. It's described as the place where "the new language of light, technology and design converge to reveal new solutions, new knowledge and new discoveries." There will be over 70 countries represented.
One of those, the James Industry Group from China, has partnered with P.O.P. Exhibits Inc. to produce a Double Deck Exhibit that will be not only be one of the largest exhibit structures at the show, but one with the most amount of pre-show planning.
In preparation, representatives of the James Industry Group have twice traveled to the P.O.P. Exhibits Inc. manufacturing facility in California to organize pre-shipped product from China. An exhibit schematic was designed to show where each lighting product would be placed on wall panels that were then mounted and wired. So, while the Double Deck Exhibit hardware was shipped directly to the LightFair advanced warehouse, the downstairs exhibit wall paneling was being readied to literally light up the show.
The upstairs deck at 26' is relatively long for a double deck, however, within the 20' x 50' overall booth space, more structure was needed to make use of the square footage. To remedy this, two 12' towers on either end of the exhibit have been added to provide balance, height, additional branding and product display space.
Founded in 2005, James Industry has quickly become a leader in advanced solid state lighting systems. They provide LED tube and LED paneling which will be showcased along with their new products at Lightfair this year. James Industry Group has been expanding rapidly over the last 7 years, and they are setting themselves up well for even more success following what will undoubtedly be an impressive booth at Lightfair 2016.
P.O.P. Exhibits Inc. has been providing exceptional service to clients such as Amazon, Pepsi, Alaska Airlines, and Absolut Vodka since 1995 while maintaining an international perspective. Companies from around the world, including Brazil, China, Europe and India have chosen the firm because of its commitment to providing top quality, excellent service, superior design, competitive pricing and for its goal of earning repeat, long term business instead of one time sales. The company focuses on custom island and double deck projects.