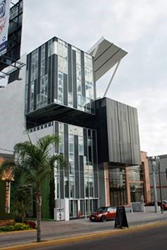 Gensuite Mexico will be able to provide better services to its customers by having a completely different work space.
AGUASCALIENTES, Mexico (PRWEB) April 14, 2016
Gensuite is pleased to announce that its Mexico team will be moving to a new location. Team Mexico's office move on July 1, 2016 will aid in integrating the company's growth strategy by increasing its global presence and support to Gensuite subscribers in Latin America.
After experiencing significant growth within the past five years, the Mexico Gensuite team was looking to relocate to an office that better suited their growing needs. The new office space is situated in a prominent commercial business area of the city, which will increase company visibility and help to introduce the Gensuite brand to the local market.
"Gensuite Mexico will be able to provide better services to its customers by having a completely different work space," said Cyntia Padilla, Gensuite Mexico's Lead Operations Specialist. "The team will now be able to continue hiring determined individuals who can focus on providing the best user experience possible for Gensuite subscribers. We are very excited for this new transition!"
The new office amenities include private rooms for customer meetings, small meeting rooms, and a large conference room. The new space will also provide the Mexico Gensuite team with a more secure location, ensuring employee and visitor safety.
The new location is one example of how Gensuite will continue its outreach initiatives throughout 2016 to expand to new markets and subscribers in the region.
Gensuite LLC is the exclusive world-wide licensee and service provider for Gensuite®, a suite of award-winning, integrated Web applications enabling compliance, operational excellence and risk management. As a result of over 15 years of Six Sigma digitization innovation, Gensuite now consists of over 60 modules spanning the entire EHS spectrum. Gensuite provides program support for EHS, Sustainability, Quality, Security/Crisis Management, Responsible Sourcing, and Product Compliance. All modules are developed on the same innovative and patented architecture, providing an intuitive interface, real-time trending & analytics, and mobile capabilities. The mission of Gensuite LLC is to be the turnkey partner for compatible subscribers of the Gensuite platform, with services spanning hosting, maintenance, support, customization, implementation & strategy consulting and continuous product evolution.