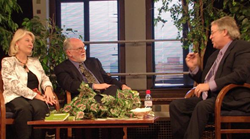 Have you been told, "You'll just have to learn to live with it?"
Grand Rapids, MI (PRWEB) April 15, 2016
Finally, after over one hundred and fifty years, the most common cause of Meniere's disease has been discovered. Michael T. Burcon, B.Ph., D.C. will be offering consultations to Meniere's patients at the Grand InterContinental Hotel Seoul the second week of June. Dr. Burcon gave his paper, "Cervical Specific Protocol and Results for 300 Meniere's Patients Followed for a Minimum of Five Years," to the Seventh International Symposium on Meniere's Disease in Rome, Italy in October, 2015, to seven hundred otolaryngologists. He has presented to more than 2,000 Ear, Nose, and Throat surgeons at Cleveland Clinic, the Prosper Meniere Society in Austria, the House Ear Institute in California and the Kyoto International Convention Center in Japan. His papers have been published in the Journal of Vertebral Subluxation Research, The McCoy Press and the textbook, Upper Cervical Subluxation Complex, a Review of the Chiropractic and Medical Literature.
"Our understanding of Meniere's disease is being revamped. The condition was thought to be caused by excessive fluid retention (hydrops) in the endolymphatic spaces of the inner ear, which led to ruptures of the membranous structures that affect hearing and balance. Recent research has shown that hydrops is not always associated with Meniere's," says Norman Berlinger, MD. Unlike a typical disease where doctors can define it and test to see if you have it or not, Meniere's is a collection of symptoms. It should more correctly be called Meniere's syndrome. Doctors diagnose Meniere's disease by the process of elimination. They rule out everything else that "looks" somewhat like Meniere's. Meniere's is what doctors call an idiopathic disease. Idiopathic is a medical term that means unknown.
"Now for some good news," says Neil Bauman, Ph.D. That's not to say that no one knows anything about the basic causes of, and effective treatment for, Meniere's. Even better, the treatment can be fast, simple and painless. What's amazing is that it has taken all these years for someone to figure this out. Here's the story: in 1999, upper cervical chiropractor Dr. Michael Burcon made an intriguing finding. Three of his patients quickly recovered from their vertigo after receiving upper cervical specific chiropractic treatment.
Burcon has established a link between both Meniere's disease and Trigeminal neuralgia (TN) with whiplash injuries that misalign the base of the skull with the top of the neck creating a lesion affecting the Eustachian tube and the Trigeminal ganglion. Half of these traumas are caused by vehicular accidents and half from injuries involving head trauma. Burcon believes that the correlation was not made because it takes an average of fifteen years from the time of the trauma until the onset of symptoms. Patients typically get diagnosed with MD or TN in middle age. Their injuries most often happened during high school or college years from a car accident, sports injury or fall on their heads.
Based on Burcon's research the Merck Manual added "trauma to the head or ear" as risk factors for Meniere's disease. Unfortunately, they choose to omit the word neck from the quote. Jim McMahon would leave home and forget how to get back. In HBO's Real Sports with Bryant Gumbel he talked about how he used excessive amounts of painkillers and his memory loss. Filmmaker Jason Hehir said McMahon's doctors have determined that the root cause of his problems is in his cervical spine and not so much his brain.
The most objective proof of upper cervicals results has been demonstrated by Raymond Damadian, MD, inventor of the MRI. Recent research shows a correlation between trauma and Chiari, by hyper flexion type strains of the cord, in which the neck over stretches as it is pulled forward by the weight of the head, tractioning the brainstem and pulling it down toward the foramen magnum.
McMahon suffered three diagnosed concussions while in the NFL. An upright MRI revealed that McMahon had misalignment of C1 & C2 with the base of the skull, pathological cord distortion, aberrant cerebrospinal flow and significant stasis of cerebrospinal fluid pooling in the frontal lobe of his brain. Since the skull is a closed hydraulic system, too much CSF means not enough blood. Just moments after the first cervical adjustment, McMahon said "it felt like a toilet bowel flushed and all the pain and stress went away".
"Medicine will start looking at the brain, spinal cord and spine together. The emphasis is on the together part. Medicine sees a brain injury as something that only exists in the brain, and a neck injury as only something that exists in the neck, but the blood, tissue, and cerebral spinal fluid are all continuous between these two parts of the body. Symptoms of brain trauma can actually be symptoms of neck trauma, and vice versa," said Kevin Guskiewicz, who has dedicated his career to discovering knowledge about head injuries.
You might not have bought a movie ticket for "Chronic Traumatic Encephalopathy," but that is the actual syndrome at the heart of the movie "Concussion." "Luckily, upper cervical care can allow people to play contact sports safely," states Tom Forrest, Blair upper cervical doctor. All athletes of every age should get regular checkups by an upper cervical specific doctor, just like going to the dentist.
Burcon will be available for consultations in Atlanta during the Blair Chiropractic Society's Annual Conference in October. He will be giving a Meniere's presentation at his Lake Eastbrook Office Building in Grand Rapids, MI in November. Burcon has produced six Health Talk videos for GRTV. They are available on YouTube through a link on his website http://www.burconchiropractic.com/.
Every year, hundreds of patients from all over the world visit Dr. Burcon in Grand Rapids, MI. His wife, Jane, is their medical travel concierge. She will assist you before, during and after your visit. The Institute is ten minutes from GRR airport. You arrive and depart on Sunday, with twelve visits of intensive care during the week. To schedule an appointment call Jane at 616.575.9990 or e-mail JSchanerBurcon(at)aol(dot)com.