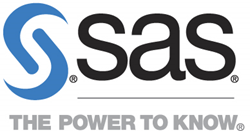 Cary, NC (PRWEB) April 14, 2016
Erste Bank and Sparkassen has selected analytics leader SAS to synchronize communication with its customers across all traditional and digital channels in real time. The project will be implemented across the Austrian banking group, which has over 1,100 offices and serves 3.4 million private and medium-sized corporate customers.
"We want to be our customers' trusted advisor and partner," said Peter Krammer, Program Manager and Business Owner for CRM at Erste Bank and Sparkassen. "This includes addressing them at the right time, with the right issues, through the channel of their choice. Only then will we know what the individual customer needs and wants."
This means addressing all distribution channels in real time, made possible by SAS® Customer Intelligence solutions including SAS Real-Time Decision Manager, SAS Visual Analytics and SAS Marketing Automation. The products bring together all the relevant information about the customer in a hub where all marketing, services and sales activities are managed and synchronized. At any time, Erste Bank and Sparkassen will be able to make decisions about each individual customer, virtually in real time, whether it be during an online banking session or during a branch visit.
"SAS convinced us through software reliability and flexibility that the technical concept of a customer decision hub offers us new possibilities," said Krammer. "The experienced SAS team quickly understood our specific needs and provided proof that we could achieve our goals."
Thanks to its analytics approach, Erste Bank and Sparkassen will be able to spread personalized offers in all channels to generate additional revenue opportunities and increase customer loyalty.
"We believe that Erste Bank and Sparkassen's implementation of a customer decision hub with SAS will significantly enhance customer experience levels, which are critically important to banks that wish to enhance and retain client relationships in today's digital world," said SAS Global Financial Services Marketing Manager David M. Wallace.
About Erste Bank and Sparkassen
Founded in 1819 as the first Austrian savings bank, Erste Group went public in 1997 with a strategy to expand its retail business into Central and Eastern Europe. Since then Erste Group has grown through numerous acquisitions and organically to become one of the largest financial services providers in the Eastern part of the EU in terms of clients and total assets.
About SAS
SAS is the leader in analytics. Through innovative analytics, business intelligence and data management software and services, SAS helps customers at more than 80,000 sites make better decisions faster. Since 1976, SAS has been giving customers around the world THE POWER TO KNOW®.
SAS and all other SAS Institute Inc. product or service names are registered trademarks or trademarks of SAS Institute Inc. in the USA and other countries. ® indicates USA registration. Other brand and product names are trademarks of their respective companies. Copyright © 2016 SAS Institute Inc. All rights reserved.