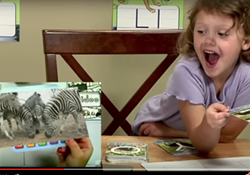 The interactivity and cross-curricular content within our program provides a rich and engaging experience for children at various levels of learning
Atlanta, GA (PRWEB) April 14, 2016
Metro Atlanta's Birney Elementary has adopted a new mind-boggling supplemental reading and math curriculum for its kindergarten classes. Learning alive, from Alive Studios, utilizes a 3D technology known as augmented reality to bring life to traditional methods of teaching. "The kids love, love, love all the features… and so do the teachers!" exclaimed Christy Hackney, a kindergarten teacher at this Cobb County school. "Teaching sight words with this program is super easy, and the kids don't even realize how much they're learning!"
This differentiated learning experience is being implemented to improve the students' proficiencies in reading and math with Learning alive. The goal is to help the students become proficient in reading and math by 3rd grade by giving them a successful start. With the At Risk population of students in America seeing little or no improvement in reading and math proficiencies, engaging programs like Learning alive will become more and more popular.
This emerging technology called augmented reality is making its way into education and Alive Studios is the leading provider for early learners with its solutions for reading and math. "Learning alive helps create an imaginative and emotional environment in which children thrive," stated Cynthia Kaye, CEO and Chief Zoo Keeper of Alive Studios. With the programs, children are taught reading and math skills aligned to Common Core (and the TEKS) with the help of 26 animated 3D animals (one for each letter of the alphabet). "The interactivity and cross-curricular content within our program provides a rich and engaging experience for children at various levels of learning," added Cynthia.
These programs are not just bells and whistles that get kids' attention; they get research-proven results. Learning alive comes with full year supplemental curriculums written by reading and math specialists that include written progress assessments. "We have recently imported all of our testing for student progress into a digital platform. Testing students digitally not only saves hundreds of hours for teachers, it also proves the effectiveness of our programs," stated Cynthia. Birney Elementary is using Learning alive in their kindergarten classrooms and their teachers like it as much as the children. "I love the Learning alive program! The kids really enjoy seeing the letters and numbers come to life!" exclaimed one of the kindergarten teachers.