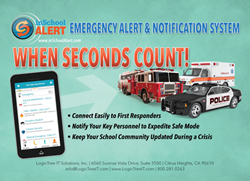 "Using inSchoolHub was a huge time saver," said Olson. "It's much more efficient than phone calls and emails to parents, especially when it comes to an emergency situation".
Citrus Hieghts, CA (PRWEB) April 21, 2016
HOW CAN YOU ENHANCE SCHOOL SAFETY WHEN SECONDS COUNT?
Life-threatening emergencies in our schools are becoming an ever-increasing reality. Our children, their teachers and everyone who works in a school face risks that were once unheard of. When every second counts, inSchool Alert is the mobile app that will quickly initiate a call to the correct first responders and immediately send a message to administrators, teachers and staff notifying them of an emergency situation, giving them the opportunity to initiate appropriate safety procedures while waiting for first responders to arrive.
With the tap of a pre-defined button on their Smartphone, anyone who has been selected to use this feature will be connected by phone to the appropriate first responders, and, the system will automatically send push notifications, text and email messages that describe the incident to a pre-determined list of contacts that can include:

First responders,
School administrators,
Teachers and staff
And on-site security officers
With inSchoolAlert http://www.inschoolalert.com, you can set up an unlimited number of notification buttons in the directory, and each can be customized to accurately describe why it was pushed. You choose the people who have access to use the emergency directory and you determine who will be sent the alert messages. By using the push notification and text messaging feature of the system, the school community and the general public can be notified of changing conditions during an incident. And, the system also affords the school the opportunity to deliver other important day-to-day updates and information.
The inSchool Alert mobile app is a free download and is available for Android, Apple and Windows phones. The management system cost is only $25 per month, there are no long-term commitments, and it is amazingly easy to set up and use.