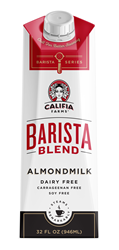 When developing our latest formulation of Barista Blend, we collaborated closely with baristas to ensure it delivered the right foam structure when steamed and a perfect flavor balance to let the coffee lead
Atlanta, GA (PRWEB) April 14, 2016
Califia Farms Barista Blend Almondmilk is the top choice for baristas in over 600 of the leading specialty coffee houses in the United States. Barista Blend is a shelf-stable formulation of Califia Farms Original Almondmilk developed for in-coffee application, providing a neutral-tasting milk perfect for smoothly integrating with coffee house beverages. Designed for easy steaming and creating great latte art, it is the go-to nut milk alternative for coffee houses - including Intelligentsia, Fourbarrel, Blue Bottle, Philz Coffee - and many more who are looking to meet the growing demands and needs of consumers who prefer their cups creamy and steamy, but dairy-, soy- and lactose-free.
"Califia Farms Barista Blend is our most popular milk alternative by far," says Amelia Evans of New York-based Toby's Estate Coffee. "Plus, we love the fresh taste and how it allows the flavors of our coffees to come through. It also makes beautiful latte art easy to pour – letting our baristas' skills shine."
"When developing our latest formulation of Barista Blend, we collaborated closely with baristas to ensure it delivered the right foam structure when steamed and a perfect flavor balance to let the coffee lead," said Greg Steltenpohl, CEO of Califia Farms. "We believe the clean energy of coffee, blended with Almondmilk, will continue to be the drink of choice for health-minded coffee drinkers."
Alternatives to cow's milk have been increasingly displacing dairy milk in America's diet and Nielsen(1) recently reported that almond milk is America's favorite milk substitute, boasting sales growth of 250% over the past five years. Califia Farms, with its iconic bottle and premium-tasting Almondmilk, is a significant force behind that revolution, accounting for 50% of the nut-milk category sales growth in the natural channel.(2)
At-home baristas are also embracing Califia Farms' nut milk alternatives, helping sales of the company's Almondmilk Creamers experience more than triple digit growth year over year. Coffee drinkers who love cream in their cup – and nearly ¾ of coffee drinkers take some form of cream with their coffee - but desire a natural, low-fat, low-sugar alternative, consistently turn to Califia Farms' alternative dairy creamers. Those creamers include Better Half, a nut-based alternative to Half & Half, and unsweetened Almondmilk Creamers, both key elements of Califia Farms' clean energy coffee ecosystem.
Coffee lovers looking for a quick, clean energy pick-me-up rely on the company's natural RTD coffee drinks - which have been the number one sellers in the natural channel for 32 months in a row. The company's popular cold-brew coffee drinks come in unique flavor combinations like Salted Caramel, Mocha Mexica, Dirty Chai and Cocoa Noir; and Califia has recently begun wooing coffee purists and adventurists with two new unsweetened RTDs: 'Full Shot,' a 100% vegan, plant-based protein and MCT-oil bolstered, clean energy drink; and 'Black and White,' which marries creamy Almondmilk with Rainforest Alliance Certified™ Arabica beans and is completely sugar-free.
All Califia Farms' RTD coffees and creamers are 100% vegan, dairy-free, soy-free, gluten-free, GMO-free and carrageenan-free.
Califia Farms will sample all its coffee-based drinks and creamers at SCAA Expo, April 15-17, Atlanta, Georgia World Congress Center, Booth #1647.
Join the conversation with @CalifiaFarms on Facebook, Twitter and Instagram.
About Califia Farms (pronounced "Cal-lah-fee-ya," like California)
Inspired by the bounty of California, Califia Farms' (http://www.califiafarms.com) mission is to innovate delicious plant-powered foods for mindful nourishment. The Company is a leader in the revolution to de-commodify the food and beverage industry by creating innovative, healthy and great-tasting premium beverages that make it easy for consumers to go 'plant-powered' and dairy-free, without compromise. Founded in 2010 by a farmer's co-operative based in the San Joaquin Valley and headed by beverage visionary Greg Steltenpohl, Califia Farms is a uniquely California company. Its Bakersfield, Calif. manufacturing plant, which uses artisanal processes to create healthy and delicious plant-based beverages, is eco-friendly, energy efficient and repurposes more than 90 percent of its post-production byproduct. Califia Farms is one of the fastest-growing natural beverage companies in the U.S., as well as the leading brand in the natural products coffee drinks category. In 2015, Califia Farms was named "Brand of the Year" by BevNet and a "Breakout Brand" by Beverage World.
Califia Farms Media Relations
Melanie Webber, mWEBB Communications, (949) 307-1723, melanie(at)mwebbcom(dot)com
Elizabeth Johnson, mWEBB Communications, (213) 713-4865, elizabeth(at)mwebbcom(dot)com
(1) http://www.nielsen.com/us/en/insights/news/2016/americans-are-nuts-for-almond-milk.html
(2) SPINS Satori Natural Channel, 52 Weeks ending 3/20/16