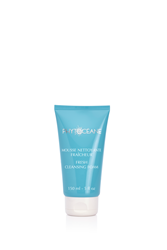 When emulsified with water, this iridescent cleanser becomes a soft, smooth foam with intense skin-purifying powers.
SAINT-MALO, FRANCE (PRWEB) April 25, 2016
Now available in select spas in the United States and at http://www.lespausa.com.
Phytocéane FRESH CLEANSING FOAM deeply cleanses, depollutes and detoxifies the skin. When emulsified with water, this iridescent cleanser becomes a soft, smooth foam with intense skin-purifying powers. Formulated with marine criste, a seaside plant that helps cells eliminate toxins and Jania, an ultra-moisturizing red vegetal coral, FRESH CLEANSING FOAM thoroughly cleanses the skin without causing dryness. It has a rich foam texture and an aquatic scent with notes of fruit and flowers.
CLEANSING FOAM, 150 ml, suggested retail price $31.50
Directions for use: Lather with water in the palms of the hands, apply to damp skin and massage with small circular movements. Rinse with water. Tone. Avoid contact with the eyes.
Key ingredients:

Criste Water - derived from a perennial maritime plant that thrives on rocky, wave-pounded coastal rocks and cliffs. Organically cultivated in the Phytocéane laboratories in Brittany, France. Cleanses the cells and facilitates the release of toxins.
Jania - extract of lab-cultivated Jania rubens, a red vegetal coral. Ultra-moisturizing.
Impressive results:
Satisfaction*
Skin that breathes • cleared from impurities • depolluted • healthy
100% Satisfaction
Tester reviews*
"Very lightweight and pleasant to use, leaves the skin fresh and cleansed."
"Removes impurities and purifies the skin."
"Rich and pleasant foam, pleasant fragrance."
"Very fresh and pleasant."
"Perfect!"
"Excellent product, very pleasant."
*Satisfaction test on 23 women - Twice-daily application for 21 days.
Phytocéane at a glance:
When exploring the secrets of Phytocéane you will discover a natural, marine brand that reveals precious JEWELS OF THE SEA and sets itself apart as a true treasure in the spa industry. Nestled in the heart of the Emerald Coast in France, Phytocéane embodies the region's timeless tradition of travel, escape and discovery. This professional, naturally-based facial and body care line utilizes resources and ingredients found in the most pristine, beautiful seas around the world. We are one of the only spa brands with our own laboratory, allowing us to research and cultivate our own ingredients, develop unique cosmetic formulas, manufacture skin care products and create cutting-edge professional treatments to deliver remarkable results.