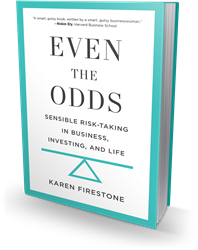 Too often, we ignore certain risks... EVEN THE ODDS will help you improve decision making and avoid dire pitfalls.
Boston, MA (PRWEB) April 26, 2016
Bibliomotion is thrilled to announce the launch of EVEN THE ODDS: Sensible Risk-Taking in Business, Investing, and Life by Karen Firestone (April 26, 2016).
Every day we take risks, some of which we barely think about. Whether it is nudging our car aggressively into a busy intersection or starting a new business, we often have uncomfortable feelings dealing with uncertainty.
Karen Firestone is a life-long, highly trained professional risk-taker. For more than four decades she's been a successful investment manager, starting at the Magellan Fund with Peter Lynch where she advanced to an executive level with few women peers, to her current position as CEO and co-founder, Aureus Asset Management where she currently manages $1.5 billion in assets. In addition, her career happened to coincide with raising two sets of twins, adding another dimension of risk-related decisions to an already rich itinerary.
"My experiences have forged these perspectives on risk evaluation," Firestone says. "And they have helped me navigate some of the most severe challenges in my life, regardless of the arena in which those challenges appeared."
Firestone analyzes various types of exposures by applying four tenets of sensible risk taking: right sizing, right timing, relying on knowledge and experience, and remaining skeptical of promises and forecasts. In her new book EVEN THE ODDS: Sensible Risk-Taking in Business, Investing, and Life (Bibliomotion; April 26, 2016; $27.95 hardcover) she confronts opportunities and conflicts, using memorable examples of successes and failures as well as personal insights shared with us, so we learn the art of choosing wisely.
"Too often, we ignore certain risks and disregard the possibility of unhappy consequences," Firestone writes. "The tenets I've outlined in EVEN THE ODDS are designed to improve decision making and help you avoid dire pitfalls."
An executive who spent years analyzing the biotech and healthcare markets, her business examples include Halliburton, Carbonite, Genzyme, Excite.com, Harvard University's financing of an expansion, Twitter, Green Mountain Coffee, and Allied Irish Bank, to name just a few. We move from Boston to Las Vegas, Dubai to New York, getting behind the scenes at client meetings and business launches. In the personal realm, we follow Firestone's life-changing decision to leave a stellar career at Fidelity, where clients pitched the firm to handle their business, to the leap of starting a company and creating a new client base traversing one of the worst recessions in history.
There are even direct pieces of advice taken from real-life situations, such as the example of a young woman who was bullied at the office and the short seller who got caught in a "short squeeze" and lost over $2 million and his marriage. She even includes her own personal decision to risk her safety by accepting "running" guardianship for a jogging buddy friend held under house arrest.
With remarkable honesty and a clear take on thought processes, Firestone's perspective on business and life will change how you think.
Karen Firestone is president, CEO and co-founder of Aureus Asset Management, an investment firm dedicated to providing contemporary asset management to families and individuals. Previously, she spent 22 years at Fidelity Investments, most recently as a diversified fund manager of Destiny 1 Fund, the Large Cap Fund, Advisor Large Cap Fund, and several institutional non-profit and pension funds. Prior to that, Firestone managed several sector funds, including the Leisure and Entertainment Fund, the Media Fund, Air Transportation Fund, Transportation Fund, Biotechnology Fund, and Health Care Fund. Karen's Fidelity career began in 1983 as an assistant fund manager to Peter Lynch on Magellan Fund. Later, she moved to an analyst role in the research department covering numerous industries. She was twice named to the Institutional Investor Best of the Buy Side All Star team.
Firestone received a Bachelor of Arts degree in economics, magna cum laude, from Harvard College in 1977 and an MBA from Harvard Business School in 1983. She is the Chairman of the Board of Trustees of The Commonwealth School. She has served on various committees and Task Forces for Harvard University. In addition, Firestone is a member of the Board of Trustees for the Beth Israel Deaconess Medical Center and of the Boys and Girls Clubs of Boston. She is a regular contributor to the Harvard Business Review and frequently appears on CNBC's Squawk Box and Halftime Report.
Firestone lives in Brookline, Massachusetts with her husband, David. They have four grown children, two grandchildren and two Springer spaniels. Karen is an avid runner, tennis and bridge player.
PRAISE FOR EVEN THE ODDS
"Risk is everywhere, and we all need to manage it wisely. This book teaches you to manage risk as a highly proficient and articulate investment professional does. Karen Firestone shares her copious experience in a series of useful and engaging examples." — Ben Shapiro, Malcolm P. McNair Professor of Marketing Emeritus at the Harvard Business School
"There is no other book like Even the Odds. It is a must-read for every MBA student launching a career and every midcareer professional contemplating what is next. This book spans risk/reward tradeoffs with uncommon candor, clarity, and cleverness. It blends Warren Buffet's wisdom with the engaging personal appeal of Oprah Winfrey. Written by one of the world's most successful, witty money managers, this book adroitly navigates the opportunities in the turmoil of markets and money as well as in the complexities of love, family, and community life. Unlike the biographical reflections of most CEOs and public officials, Firestone reveals missteps showing the lessons of resilience and how to detect dangerous mischief of others. " — Jeffrey A. Sonnenfeld, Senior Associate Dean for Leadership Studies, Lester Crown Professor of Leadership Practice, Yale School of Management and author of Firing Back and The Hero's Farewell
"Even the Odds is an eloquently written exploration of multiple facets of risk. By mixing risk management theory, business anecdotes, and personal life story, Karen Firestone has created a highly readable book on a subject relevant to everyone." — Lord Adair Turner, former Chairman of the UK Financial Services Authority and author of Between Debt and the Devil
"Karen Firestone has produced a very thoughtful, articulate, and eminently readable book on how to think creatively about risk and deal with our uncertain world. I particularly enjoyed her anecdotes and vignettes on specific case studies of both personal and financial risk-taking, which include her blunt assessment of both successes and mistakes. She is persuasive in providing examples of how a more systematic assessment of risk might lead to better decisions and outcomes." — Edward H. Ladd, Chairman Emeritus and CFA, Standish Mellon Asset Management
"Even The Odds: Sensible Risk-Taking in Business, Investing, and Life is Karen Firestone's experience utilizing her personal courage and critical analytical sense to navigate through the riptides of the waters of billion dollar investments, take on the risks inherent in becoming CEO of an investment firm at the height of one of the nation's most historic financial collapses, and now help guide others through the uncertainties of their own risks." — Peter Gammons, writer, journalist, and analyst at the Major League Baseball Network
"Karen Firestone has brilliantly navigated market risk for many years. In Even the Odds, she offers us the gift of her clarity and pragmatism in assessing that risk. By showing us how to ask the right questions and unearth potential pitfalls, this book offers wisdom about how to pursue our dreams without losing our shirts—or our minds—in the process… A smart, gutsy book, written by a smart, gutsy businesswoman." — Robin Ely, Diane Doerge Wilson Professor of Business Administration, Senior Associate Dean for Culture and Community, Harvard Business School
Bibliomotion is a book publishing house designed for the new publishing landscape. While many publishers work to retrofit old processes for new realities, Bibliomotion was founded by book-industry veterans who believe the best approach is a fresh one – one that focuses on empowering authors and serving readers above all else. Moving away from the top-down model that has dominated the publishing process for years, we give each member of the team – including the author – a seat at the table from the very beginning and in doing so, work side-by-side to launch and sell the best content possible, making it available in a variety of forms.