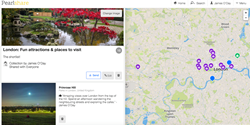 Guests receiving guides are more likely to give a better review
London, United Kingdom (PRWEB UK) 15 April 2016
Vacation rentals make up a $100 billion travel market, expected to grow to $150 billion by 2019[1]. Within this, the fastest growing segment is the direct home-rental market, with Airbnb and other players experiencing around 50% growth in 2015. This year, an estimated 34 million travellers worldwide will enjoy 66 million direct-booked home-rental stays through ratings-based operators like Airbnb, of which over 42 million will be in the world's leading destination cities[2].
Home-rental travellers are typically more adventurous and affluent than average travellers, undertaking more trips per year. They also have very specific needs for information: with no access to hotel concierges or staff, and low levels of trust in online review sites, Pearlshare research shows that they place most trust in recommendations from friends and rental hosts. In London, for example, according to a recent survey by Airbnb, over 55% of guests visit local businesses recommended by their host.
Using the Pearlshare guide-builder (available at http://www.pearlshare.com) and iPhone app (http://pearlsha.re/download), hosts can quickly group their favourite neighbourhood places ("Pearls") into personalised Guides. These are sent to guests before or during the trip via any convenient messaging system, and accessed via mobile or desktop device. Each Pearl contains contact details, tips, photos and comments; multiple Guides can be built around different themes or localities. While guests can use the guide without downloading Pearlshare, doing so allows them to save and modify Guides, and to share them with their travel companions.
Pearlshare has collaborated with over two hundred rental hosts and their guests during the design of the service – making it both powerful and easy to use. Creating guides in Pearlshare is free – and the first 250 hosts using the service will qualify free for "Pearlshare Up and Running", a service designed to create starter guides on behalf of hosts and host management companies.
Pearlshare is designed to help transform guests' experience into something really special – living like a local – and so create a truly memorable stay. As Chip Conley, Airbnb's global head of hospitality, said: "If you understand the guest really well, and you can actually suggest an itinerary for them, that's customised and perfect for them, that's as good as it gets".
James O'Day, co-founder and COO of Pearlshare, said "Our pre-launch testing has indicated that guests receiving Pearlshare guides are more likely to give the host a better review, which is so crucial in differentiating their listings from the competition and improving booking rates and income."
Michael Liebreich, co-founder and Chairman of Pearlshare, said: "The sharing economy is transforming the travel industry. By 2020 a hundred million people a year will be booking home-rentals via Airbnb and other providers, and they need reliable travel information. They are not getting it from review sites or traditional travel media companies, but they want to get recommendations from their hosts, so Pearlshare is addressing an enormous opportunity."
What people are saying
Jim, the co-founder of Learnairbnb.com, says: "Pearlshare is an essential tool for Airbnb hosts to share local knowledge about their neighbourhood with their guests".
"To stay competitive in your local Airbnb market", he continues, "you MUST provide personal recommendations of hot spots around town. Guests are seeking to 'live like a local' and Pearlshare is a powerful way to transform your guest's trip from an average vacation into a memorable, local experience."
Pete, owner of one of London's most popular Airbnb rentals, the St Pancras Clocktower says: "I'm an Airbnb Superhost, and the thing I struggle with most is breaking the ice with guests. Pearlshare offers me a way to do that before the guests even arrive, which is very exciting."
About Pearlshare
Pearlshare is designed to build and share personalised local guides. Currently available on iPhone and web, development plans include an Android version.
Users save their favourite Pearls – restaurants, bars, hotels and attractions – along with photos, comments and tips, creating as many Guides, based on different themes or locations, as they want. They decide whether Pearls and Collections should be kept private, shared with friends or published to the Pearlshare community.
Pearlshare is ideal for Airbnb, and other holiday rental, hosts who need to create customised local guides for their guests. Pearlshare can also be used to discover new "Pearls" – great restaurants, bars, hotels and products anywhere in the world.
Founded in 2014, London-based Pearlshare has been funded by a group of experienced investors, among them previous early stage backers of companies including LinkedIn, LoveFilm, Wonga, Betfair, PeerIndex, yplan, eFinancial News and Bloomberg New Energy Finance.
___
[1] A Change of Vacation Plans, Evercore, April 2015
[2] Pearlshare estimates