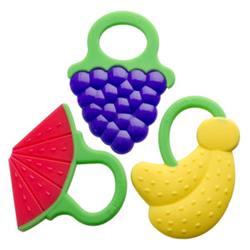 "The problem is that babies put everything in their mouths and their undeveloped immune systems can't filter out harmful chemicals. Our FDA-approved teething toys keep babies healthy and invigorated."
VANCOUVER, British Columbia –
May 03, 2016 – (PRWEB) May 04, 2016 -- Wimmzi, a manufacturer of innovative infant and child products, today revealed the non-toxic benefits of its Tutti Frutti line of teething toys. But their ability to help babies deal with teething pain is just part of the story. These food-grade, silicone toys are FDA approved, contain no toxic gels, and are BPA-, PVC-, and phthalate-free.
"Many baby toys contain BPA, harmful plastics, dyes and glues, not to mention other chemicals that are highly toxic," said Magda Nikolic, CEO of Wimmzi. "The problem is that babies put everything in their mouths and their undeveloped immune systems can't filter out harmful chemicals. Our FDA-approved teething toys keep babies healthy and invigorated."
Even exposing the skin to some chemicals can be harmful, and some are very powerful, known hormone disrupters, for example. Tutti Frutti Teething Toys, however, are free of all toxic compounds. They are made of one-piece, durable silicone and feature an ergonomic design. The edges are soft and shaped to safely reach a baby's front and back teeth.
Customers have also noted how useful the toys are during play and for developing motor skills. Multi-sensory textures and real fruit designs help aid in baby's cognitive development. Their pliable design also helps develop the skills needed to consume solid foods later on. In addition, the toys can be stored in the refrigerator or freezer and can be attached to a pacifier clip. They are convenient to use which gives parents added satisfaction beyond not having to worry about dangerous toxins.
Tutti Frutti Teething Toys and other Wimmzi products are available now on Amazon. Available in environmentally friendly and chemical-free packaging,containing no harmful chemicals, and sell for $16.97 per set. https://www.facebook.com/wimmzi/
END
###