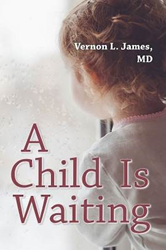 "This amazing book takes an insider's look at the state of children's medicine and what can be done to improve our children's lives." - Robert Fletcher, CEO of Strategic Book Publishing and Rights Agency
(PRWEB) April 18, 2016
This remarkable book features true stories about children and families, originating from the author's over 50 years in pediatric medicine. Their conditions are described in story fashion, shedding light on "attacks" made on children that rob them of their right to reach their highest potential.
Explained Dr. Vernon L. James, "Many parents and teachers have requested that I write this book. I became emotionally involved as I recalled each child and their family. When finished, I was rewarded in knowing that I might have touched at least one person to become an advocate for a child."
The attacks that children face include flawed chromosomes or genes, infectious diseases, starvation, and a toxic environment. Having the knowledge in this book can lead parents to guide their children to a healthier and happier life.
"This amazing book takes an insider's look at the state of children's medicine and what can be done to improve our children's lives. We are thrilled to announce its release," said Robert Fletcher, CEO of Strategic Book Publishing and Rights Agency.
About the Author: Vernon L. James, MD, was born in Liberty, North Carolina. He received his BS and MD from the University of North Carolina in Chapel Hill. Pediatric training was at the Children's Hospital at Ohio State University and a fellowship at the Children's Hospital at Harvard Medical School. He retired as a Bird Colonel from the USAF, and was a full-time professor at the University of Kentucky and the University of Kansas Medical Schools. Private practice was in Wichita, Kansas, and San Antonio, Texas. The author lives with his wife, Psychologist Dr. Dessie James. "As a poor kid 'raised by a village' in North Carolina, I feel blessed knowing that I have reached out and helped many, many children during my 80-plus years."
A CHILD IS WAITING (Softcover ISBN: 978-1-68181-424-7, $12.95; Hardcover ISBN: 978-1-68181-346-2, $26.50) is now available and can be ordered through the publisher's website:
http://sbprabooks.com/VernonLJames or at Amazon.com or Barnesandnoble.com.
WHOLESALERS: This book is distributed by Ingram Books and other wholesale distributors. Contact your representative with the ISBN for purchase. Wholesale purchase for retailers, universities, libraries, and other organizations is also available through the publisher; please email bookorder(at)sbpra(dot)net.