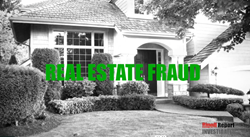 We have always been about helping the consumer and now we can reach even more people, to really make them aware of what's going on out there
Tempe, AZ (PRWEB) April 14, 2016
Today, one of the nation's largest consumer complaint sites, Ripoffreport.com, visited by over eight billion people since 1998, launches a new weekly, investigative web series, "Ripoff Report Investigates" (RRI), that features street and gritty journalism that goes below the surface to expose the scams and the scammers. RRI's initial focus is on a growing trend across the country - real estate identity fraud, swindlers who assume the identity of homeowners and steal their home or equity.
With Ripoff Report's vast consumer presence and reach, founder Ed Magedson wanted to give his audience more, evolving his site and brand to not only inform but to present information in an entertaining way. Teaming up with an experienced team of network news veterans to launch the series, his goal was to not only expose fraud, but to make a difference.
The series is poised to attract a wide audience tired of the same old news formula. "We have always been about helping the consumer and now we can reach even more people, to really make them aware of what's going on out there," Magedson said.
"Ripoff Report Investigates is what you can do with public records in the YouTube era," says series producer, co-creator and host Heidi Siegmund Cuda, an Emmy award winning investigative producer. "We found fraudsters who ripped off hundreds of thousands of dollars but who also had the time to post daily videos of their exploits. In some cases, their aspirations of fame also led to their downfall." Deed Fraud is on the rise across the country and, in some parts, has reached epidemic proportions.
In the first segments of the series, Cuda introduces you to "The Rise and Fall of Nicholas Corky Bravo," a YouTube personality whose web performances led to his arrest and three year conviction for real estate fraud. (Superior Court of the State of California, County of Los Angeles case number BA433234 Nicholas Bravo)
Cuda, working with co-creator and founder of 4siteVideo, Greg Montemurro, spent years together honing their craft in TV news in Los Angeles before branding their own gonzo style of post-mod journalism. "In the case of Corky, while his recorded antics were often hilarious and entertaining, the fact is, he hurt people," says Montemurro. "It was great to see the YouTube community step up and help put him behind bars."
"Ripoff Report Investigates" delves deeper than most would dare, to expose shocking criminal behavior. The first season focuses on the growing underworld of real estate identity fraud. RRI exposes criminals who steal identities or forge documents, resulting in innocent homeowners getting ripped off and losing millions.
"Some of the hardest hit by these scammers are the elderly, who are often the most vulnerable," says Cuda, who co-authored multiple books on social justice issues.
RRI exposes scammers in hard hit urban areas, including a pastor who allegedly stole a church; a leader of a large theft ring who even stole a home from behind bars; and it turns a spotlight on those who simply faked their way onto mortgage documents, resulting in the ability to take out loans on victim's houses or even sell homes that don't belong to them.
"The Stories are provocative, sometimes disturbing, and always enlightening. The perpetrators are brash and often unforgivable. RRI uncovers how they did it, and explains to others how they can prevent this sort of thing from happening to them" says Montemurro.
About Ripoff Report:
Ripoff Report has been helping consumers online since 1997. In that time the site has received over eight billion visitors, received over two million reports and more than 28 million rebuttals and comments to the reports. Ripoff Report has exposed the worst of the worst of those committing consumer fraud and saved consumers an estimated 15 billion dollars. The site is used as a regular reference by every branch of law enforcement from Attorneys General, US Postal Inspection Service, FBI, FTC, SEC, US Customers and Border Patrol, United States Secret Service, US Department of Justice, Local and Federal Prosecutors, the US Treasury, and law enforcement in more than 8 other countries. Ripoff Report has also assisted with the production of consumer stories nationwide for every major network, newspaper, and magazine to local TV news stations and more. Ripoff Report is a proven brand name with a loyal following uncommon among web properties and is the longest running consumer website online.