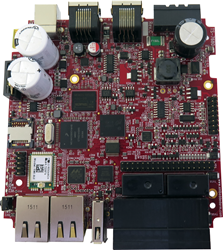 Robust industrial features and complemented them with high end performance components.
Fountain Hills, AZ (PRWEB) April 14, 2016
Technologic Systems unveiled the newest addition to their Single Board Computer (SBC) product line with the TS-7680. The TS-7680 embedded computer, powered by a 450 MHz ARM CPU, is designed to provide extreme performance for applications which demand high reliability, fast bootup/startup, and consistent connectivity.
"The TS-7680 began with direct feedback from a customer in the HVAC industry who indicated he needed 24V AC power input as did many others in that market." stated Robert Miller, company Founder and President. "We did the research and indeed found that market was underserved, so we began development of the TS-7680 right away. We have included some very robust industrial features and complemented them with high end performance components to make the TS-7680 an ideal board for the HVAC, building automation, and control system industries."
Built for the field
The TS-7680 was built with industry in mind and comes equipped to handle power input allowing 8 to 40 VDC as well as 10 to 28 VAC, all housed in a protective, low cost plastic enclosure with optional DIN mount. It is designed to operate fanless in the industrial temperature range of -40 °C to +85 °C. The TS-7680 also offers a sub-watt low power operation mode as well as sleep mode for even lower power consumption. The boot time from power on to U-Boot shell is two seconds from the microSD card or approximately ?? seconds from the onboard eMMC flash.
Connected
The TS-7680 comes equipped with a Wireless 802.11b/g/n and Bluetooth 4.0+EDR module for out-of-the-box functionality and connectivity. For flexible data storage there is the option of 2 GB of high reliability SLC or 4 GB of high capacity MLC eMMC flash. The TS-7680 is built with functionality and flexibility in mind and offers wide variety of industry standard connectors including a USB host port , two 10/100 Ethernet ports, a microSD socket, two CAN ports, two RS-485, a high-precision, battery-backed RTC, 30 V tolerant DIO, analog IO, and more.
A 24-position industrial screw terminal connector provides a rugged, solid interface for four DAC and four ADC at 0 - 10 V to drive control functions. There is a 16 pin header with support for a cellular modem daughter card or a Power over Ethernet daughter card. Additionally, a 38 pin expansion header is available featuring adjustable GPIO using the FPGA's crossbar, 4 - 20 mA transmitters, and a transformer driver for an isolated power supply to support expansion boards with isolated interfaces including RS-485 and CAN ports.
The TS-7680 can boot from the onboard eMMC Flash or microSD card and comes preloaded with Linux kernel 3.14.28 and Debian Jessie along with the standard set of GNU development tools and familiar user space tools that come with the Debian distribution.
On Board Insurance
The TS-7680 is the first Technologic Systems product to feature its TS-SILO technology powered by two onboard supercapacitors. With this option the embedded system has built-in protection from brownouts, spikes, and gaps and will provide 20 to 60 seconds of reserve power in the event of a power failure. This precious extra time gives the board time to gracefully power down and ensures file system integrity. There are no installation or maintenance requirements for this added functionality. This makes the TS-7680 also desirable in small remote, unmanned stations that require some insurance against the elements and where it simply isn't feasible to have a generator or other level of backup present.
About Technologic Systems
Technologic Systems has been in business for 32 years, helping more than 8000 OEM customers and building over a hundred COTS products that have never been discontinued. Our commitment to excellent products, low prices, and exceptional customer support has allowed our business to flourish in a very competitive marketplace. We offer a wide variety of single board computers, computer-on-modules, touch panel PCs, PC/104 and other peripherals, and industrial controllers that satisfy most embedded project requirements. We also offer custom configurations and design services. We specialize in the ARM and X86 architectures, FPGA IP-core design, and open-source software support, providing advanced custom solutions using hardware-software co-design strategies.
Technologic Systems
16525 East Laser Drive
Fountain Hills, AZ
85268
http://www.embeddedARM.com
(480)837-5200