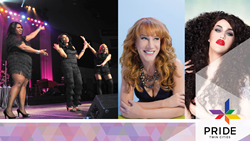 Minneapolis, MN (PRWEB) April 15, 2016
Twin Cities Pride today announced the 2016 Pride entertainment lineup, featuring Pride in Concert performers The Pointer Sisters and Adore Delano, and Pride Presents comedienne Kathy Griffin.
"We're thrilled to be able to bring these talented acts to the Twin Cities for Pride this year," said Dot Belstler, Twin Cities Pride executive director. "As the largest free Pride celebration in the country, we're grateful to our sponsors and individual donors for helping make these events possible."
Pride Presents: Kathy Griffin
Where: Orchestra Hall
When: Thursday, June 23, 6-10pm
How to Buy: Tickets start at $45 | Information at tcpride.org
About Kathy Griffin
Two-time Emmy and Grammy award-winning comedian Kathy Griffin is a towering figure on television, on tour and in publishing. She breaks through the entertainment clutter with her universally recognized brand of pull-no-punches comedy. Currently, Kathy Griffin can be seen as host of the E! hit fashion commentary show, "Fashion Police." Last year, Kathy made history with her 6th consecutive Grammy nomination and first win for Best Comedy Album ("Kathy Griffin: Calm Down Gurrl"), joining Whoopi Goldberg and Lily Tomlin as the only other female comedians to ever win Grammy awards for Best Comedy Album.
Pride in Concert with The Pointer Sisters and Adore Delano
Where: Loring Park, Minneapolis
When: Saturday, June 25, 6-10pm
How to Buy: Tickets $10 general admission, $75 VIP at tcpride.org
About The Pointer Sisters
The Pointer Sisters are a three-time Grammy-winning group from Oakland, California. Spanning over four decades, they achieved 13 US top 20 hits between 1973 and 1985—including "Yes We Can Can," "He's So Shy, "Jump (For My Love)," and "I'm So Excited." They have a star on the Hollywood Walk of Fame, and have been honored by the Soul of American Music Awards and were inducted into the Soul Train Hall of Fame.
In recent years, the group has performed with some of the greatest symphony orchestras in the world, including San Francisco, Jacksonville, Atlanta's Symphony Orchestra and the renowned Boston Pops. They were a smash hit at Night of the Proms, which spanned over 50 sold-out performances throughout Germany, Holland and Belgium, and has secured the group many more successful tours in Europe. The group recorded a live CD/DVD, which captured the energetic Pointers performing the hits that fans of all ages continue to enjoy! Ruth, Issa and Sadako maintain a busy touring schedule and perform the music of The Pointer Sisters all over the world
About Adore Delano
Daniel Anthony "Danny" Noriega, also known by the stage name Adore Delano, is an American drag queen and singer. He first appeared as a contestant on the seventh season of American Idol in 2008; he later finished in the top three on the sixth season of RuPaul's Drag Race.
Till Death Do Us Party is the debut studio album from American singer-songwriter and drag queen, Adore Delano. The album was released through Sidecar Records in association with Producer Entertainment Group on June 3, 2014. The album was available to pre-order on May 29, 2014, and was officially released on June 3, 2014. In November 2014, Delano announced that she was working on a follow-up to Till Death Do Us Party.[1]
After Party is the second studio album from American singer-songwriter and drag queen, Adore Delano. The album is scheduled to be released through on March 11, 2016. It was made available to pre-order on February 26, 2016.
2016 Twin Cities Pride Events:

Pride Family Picnic (June 19)
Pride Presents Kathy Griffin (June 23)
Pride Night at the Saints (June 24)
The Pride Beer Dabbler (June 24)
The Pride Festival, (June 24-26)
Pride in Concert with The Pointer Sisters and Adore Delano (June 25)
Rainbow Run 5K Fun Run (June 26)
The Ashley Rukes GLBT Pride Parade (June 26)
Complete event information and details are available at http://www.tcpride.org.
About Twin Cities Pride:
Twin Cities Pride is a 501(c)(3) nonprofit Minnesota corporation, with a mission to "Create experiences that bring the greater GLBT community together to commemorate our diverse heritage, foster inclusion, educate and create awareness of issues, and celebrate achievements in equality." To achieve this, we create events that are open and inviting to everyone in the community, providing a safe environment in which individuals feel free to celebrate their relationships.
###