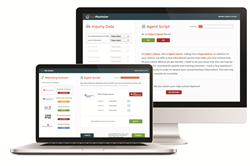 "Selecting the right educational setting up front will set students on a path for success before they even step foot in a classroom."
Tempe, Ariz. (PRWEB) April 15, 2016
EduMaximizer, a proprietary SaaS product from Higher Ed Growth (HEG), is modernizing the way prospective students are matched with colleges and universities. The platform is specifically designed to streamline recruitment, improving outcomes for undergrads, schools and lead generation partners.
Education is continuously evolving and, as a result, schools are looking closely at student achievement and job placement as a measure of success. These shifts, combined with the number of options available to undergrads in deciding where to pursue a degree, have created a significant need for inquiry generators to promote compliance and take a more personalized approach in matching students to colleges.
"Helping students narrow their focus and select a school with programs they will excel in is vital. By leveraging technology, EduMaximizer enables call centers to more effectively align an individual's needs with programs that are the best fit for them," said Frank Healy, CEO of HEG. "Selecting the right educational setting up front will set students on a path for success before they even step foot in a classroom."
While the platform produces more qualified student-to-school match rates, the technology also simplifies day-to-day business operations for contact centers. Unlike many traditional settings that require representatives to work in numerous client portals, EduMaximizer uses one seamless display to gather information and search for qualified college matches.
The platform incorporates pre-populated short form lead data, eliminating the need for the same form fields to be completed multiple times. It also utilizes custom Telephone Consumer Protection Act (TCPA) scripts to ensure industry compliance standards are met, and automates school searches. Tracking, reporting and call recording features are integrated to reduce the time and resources spent on manual analysis, providing a more accurate view of a prospect's lifecycle for lead generators and colleges.
Call centers utilizing EduMaximizer have seen an immediate impact in their businesses. Quantum 3 Media, for example, implemented the platform in September 2015 and saw instant and notable results, including a 26 percent increase in match rates.
"We saw EduMaximizer as an impressive tool to help safeguard efficiency and compliance in our lead process. The platform is incredibly intuitive and offers the additional benefits of providing more qualified leads for our education partners and helping students find great programs, while positively impacting our bottom line," said PJ Quiros, executive vice president of sales and operations for Quantum 3 Media.
HEG is currently offering demos of EduMaximizer. To learn more or to coordinate a demo, visit edumaximizer.com or call 1.866.433.8532.
About Higher Ed Growth
Higher Ed Growth (HEG) is a full-service marketing agency specializing in post-secondary education. HEG uses propriety technology solutions to deliver targeted enrollment leads to for-profit and nonprofit education clients. In addition to lead generation, HEG offers agency of record services, enrollment analytics, search engine optimization and white label solutions – with the ultimate goal of boosting enrollment and retention numbers for clients. HEG was named to Inc. Magazine's list of 5,000 fastest growing companies in the US in 2014 and 2015. Visit http://www.higheredgrowth.com.
###