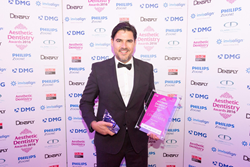 Smile With Confidence
Hailsham, East Sussex (PRWEB UK) 15 April 2016
The Aesthetic Dentistry Awards recognises and rewards excellence in aesthetic, orthodontic, dental implants and restorative dental work. Dr. Federico Brunner won the category of Full Mouth Rehabilitation.
Dr. Brunner's work was assessed by a panel of 23 judges, and showcased his use of indirect restorative treatments (veneers, bridges or crowns) to create the perfect, sparkling smile.
Founder and Clinical Director of the Brighton Implant Clinic, Dr. Bruno Silva, said the award was an accolade for the whole clinic.
"Having Dr. Brunner's work recognised at one of the most prestigious dentistry occasions in the UK is fantastic. We encourage our dentists to excel in their fields, and they continue to push boundaries, seeking innovative treatments and using existing methods with excellence and finesse," Dr. Silva said.
"Dr. Brunner's award is a reflection of his great work, and also of the high level of treatment afforded to all our clients," he said.
Originally from Argentina, Dr. Brunner graduated with a degree in dentistry from the University of Madrid in 2001. He worked as a dental surgeon in Spain, and completed post-graduate training and attended several courses in the United States, Spain and Cuba. Dr. Brunner joined the Hailsham clinic, where he is responsible for dental implantology, Digital Smile Design and cosmetic dentistry.
Last year, Dr. Brunner won four awards at the National Aesthetic Dentistry Awards.
For further information, images or interviews, please contact:
Dr. Bruno Silva
Clinical Director
Brighton Implant Clinic & Advanced Dentistry
Tel: 0800 111 6623
http://www.brightonimplantclinic.co.uk
About Brighton Implant Clinic & Advanced Dentistry
Brighton Implant Clinic & Advanced Dentistry was established in 2009 in Hove, East Sussex, and now has branches in Hove, Brighton, Worthing and Hailsham.
These welcoming clinics feature state-of-the-art facilities, the latest in dental technologies and speedy treatment plans at affordable prices.
An experienced team of experienced, friendly and professional dental nurses, technicians and administrative staff awaits you at Brighton Implant Clinic & Advanced Dentistry.