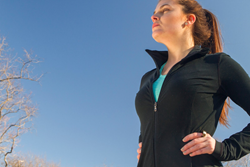 New York, NY (PRWEB) April 14, 2016
Stick with Us a Little Longer to Learn About mBand and Its Important Mission to Make the World Safer for Women
While Kickstarter campaigns can feel passé these days, there's nothing more relevant than ensuring women's safety. Enter mBand: wearable security designed to alert community contacts and call police with the push of a button, without fumbling for a phone or any other device.
Invented by Rachel Owens, a runner, a mom, and an empowered woman, mBand was designed as jewelry but built with security as its prime objective. In the critical moments of an attack, the ring activates the mBand app, which sends a text message with the user's exact GPS location to a fully monitored emergency response center, where professionals are standing by 24/7 to dispatch police. mBand simultaneously sends the user's GPS location information to up to four pre-selected community contacts.
Because mBand relies on community response in an emergency, it only makes sense that it would rely on community to exist. For this reason mBand launched on Kickstarter earlier this month, and has secured over 175 backers and $28,000 in funding to date.
Because the community mBand is serving is so essential, for every 10 backers the Kickstarter campaign receives, one ring with a year of professional emergency response monitoring will be donated to organizations dedicated to ending violence against women and supporting survivors of abuse.
"I think mBand is ingenious and relevant in today's dating landscape," said Michele Jones, founder and president of the Time to Fly Foundation, one of mBand's organizational partners.
What sets mBand apart from similar personal emergency response devices is its form factor. mBand is a ring, which means it can be activated with one finger of one hand, even if a victim is restrained by an attacker. Its waterproof design and its aesthetic appeal make it ready to wear on a run or a night on the town.
"For me, it needed to be activated with one hand," said Owens. "If somehow my hands were pinned behind my back, I would be completely unable to call for help. mBand not only makes calling for help easy, it also prevents an attacker from knowing that help is called, which can avoid a panic situation and potentially save your life."
The mBand Kickstarter campaign, which ends on April 29th, is attempting to raise $100,000 to cover the cost of the initial production run. Reward levels include early bird deals on rings, beta tester rewards, organizational sponsorships and more.
mBand was invented by Rachel Owens, but the product is built in conjunction with BrickHouse Security. BrickHouse is a New York-based security company with 10 years of successful product launches behind them.
"When Rachel came to us with the idea for mBand, we were absolutely thrilled to be a part of this mission," said BrickHouse Security CEO Todd Morris. "We're confident that the Kickstarter community shares our enthusiasm to help make mBand a reality."
mBand on Kickstarter
Contact
mBand
Rachel Owens, Inventor, 619-316-2693
rachel(at)mband.us
980 Avenue of the Americas
New York, NY, 10018