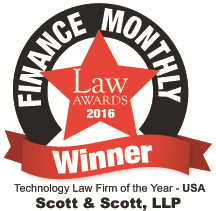 "We are honored to be recognized by the voters for this award. We have been focusing exclusively on technology law matters for over a decade and it is great to have our subspecialty recognized on a global level"
Southlake, Texas (PRWEB) April 14, 2016
Scott & Scott, LLP, a boutique technology law firm in Southlake, Texas has been named Technology Law Firm of the Year - USA by Finance Monthly. The Finance Monthly Law Awards 2016 recognizes law firms and legal professionals who have outperformed their peers through dedication to client service and work undertaken within the past year.
"We are honored to be recognized by the voters for this award. We have been focusing exclusively on technology law matters for over a decade and it is great to have our subspecialty recognized on a global level", said Robert J. Scott, Managing Partner of the firm.
Scott & Scott, LLP (https://youtu.be/hhSwkKU0tq0) is counsel to some of the world's largest corporations including PepsiCo, American Express, and Xerox. The firm has achieved "go-to" status for software licensing transactions and disputes involving the major software publishers including Microsoft, Adobe, Oracle and Autodesk. "We have handled more than 500 software disputes in the last 15 years for clients in the U.S.A. and Canada and we are not afraid to go to court against the software Goliaths like Microsoft and Oracle." Scott said.
About Finance Monthly's Law Awards
Finance Monthly's annual Law Awards offer recognition of law firms and legal professionals who, over the past 12 months, have consistently excelled in all aspects of their work and set new standards of client service.
Throughout the course of December and January 2015/16, voting forms were available on the Finance Monthly Awards website allowing the research team to compile reader feedback, highlighting the merits of individual legal professionals and firms. After the votes were compiled the research team analysed individual and firm performance through information made available via client feedback, news reports and market data.
The Finance Monthly Law Award accolade is awarded on the strength of each vote and additional research gathered. The voting process was operated on a points based system and attaches a weighting system to nominations, ensuring a fair and accurate process. The points system was run in parallel with additional supporting narrative and research undertaken. This quantitative and qualitative approach ensures the Finance Monthly Law Awards are based on performance.
As a result those celebrated represent a wide range of respected individuals and firms from all over the world. Finance Monthly's awards process honors those at the top of their game as they continue to provide first class legal services.
All category winners are featured in a special 2016 Awards publication. To view the awards publication please visit: http://lawawards.finance-monthly.com. Scott & Scott, LLP is featured on Page 56.
About Scott & Scott, LLP
Scott & Scott, LLP (http://www.scottandscottllp.com) is a leading intellectual property and technology law firm representing businesses in matters involving software licensing. Scott & Scott, LLP Scott's legal and technology professionals provide software audit defense and software compliance solutions, all protected by attorney-client and work-product privileges.
-30-