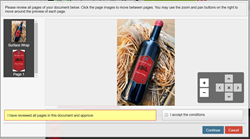 Wheaton, IL (PRWEB) April 14, 2016
Enhanced viewing capabilities improve user experience
Aleyant, an innovative leader in providing robust software services to the graphic communications industry at value-driven prices, today announced another important enhancement to Aleyant eDocBuilder, its web-based variable data publishing system. eDocBuilder is specifically designed to easily integrate with Aleyant and third-party web-to-print and MIS systems to bring template-based variable data publishing within easy reach for users at all levels of skill. The latest addition, Surface Wrap, enables users to set up a template that will deliver a preview of the final object in context. For example, instead of simply viewing a finished wine bottle label, the user can choose to view the label as it would appear on the bottle itself.
"We are excited about this new capability," said Greg Salzman, Aleyant's President. "It provides a new level of realism in the design process that will add significant value for customers while still retaining the ease of use eDocBuilder is known for and allowing printers and their customers to use tools they are already familiar with. For example, we decided to use Photoshop as a means to set up Surface Wrap previews as it's a tool that our customers generally already have and know how to use."
The Process

The customer uploads a pre-made Photoshop PSD file to the eDocBuilder template.
The PSD file uses layers set as a Smart Object in Photoshop. Smart Object is an Adobe name for the type of layer required for Surface Wrap.
By numbering the layers, the appropriate layer will be replaced by a page from the customer's eDocBuilder template.
When the user is finished customizing the template, the Surface Wrap preview will be shown. The customer can accept the preview or go back to make additional changes.
Aleyant will be demonstrating this new capability at Dscoop San Antonio April 14 to 16, as well as at drupa 2016 in Dusseldorf, May 31 through June 10.
For more information or to schedule a demo, visit aleyant.com.
Pressero Web-to-Print and eCommerce
Aleyant Pressero™ is an affordable and easy-to-use cloud-based B2B or B2C online storefront solution that can quickly and easily be customized to individual client needs. This includes a 'mobile-first' design for branded sites to ensure proper display regardless of the viewing device being used. Pressero can be enhanced with the addition of Aleyant eDocBuilder™, a web-based variable data publishing system built specifically to easily integrate into Aleyant or third-party web-to-print or MIS solutions, featuring advanced typography and image control, imposition, scripting support, PDF workflows, rapid template creation, Excel merge capabilities and more. Aleyant's Automated Workflow Integrator™ (AWI) uses a rules-based approach to automate such processes as file renaming, unzipping zipped files, or sending files and metadata directly to a RIP for processing, eliminating multiple steps in the workflow.
Aleyant PrintJobManager™ is a Zapier-compatible cloud-based print job management solution that includes a fast means of generating market-driven pricing, job management, inventory control, planning and estimating across a variety of production technologies and applications.
For additional information about Aleyant offerings, please visit http://www.Aleyant.com or call +1.630.929.0104.
Our blog can be found at blog.pressero.com.
About Aleyant
Founded in 2005, Aleyant is an innovative leader in providing robust software services to the graphic communications industry at value-driven prices. Its expertise lies in developing highly functional and flexible applications using the most current Web development technologies available, including workflow aimed at lights-out automation. Its flagship web-to-print software, Pressero, is a highly customizable retail and business-to-business storefront interface and has launched many of its clients into the exciting world of Internet-based print sales. Aleyant also offers a Web-based online design and variable data publishing (VDP) system, eDocBuilder, as a separate product. Its solutions are integrated with multiple MIS and web-to-print systems. Our latest product, Aleyant PrintJobManager™ is MIS/ERP simplified. It uses a new mobile, cloud-based approach to MIS that includes a fast means of generating market-driven pricing, job management, inventory tracking, real-time job tracking and estimating.