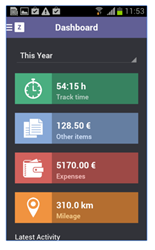 "We are privileged to have Zervant as our customer, a fast growing business solutions provider in Europe. We are honored to support entrepreneurs and freelancers, grow their business." says Rajesh Padinjaremadam, President & CEO, RapidValue
Pleasanton, California (PRWEB) April 16, 2016
RapidValue, a global leader in digital transformation for enterprises and Zervant, an emerging innovative firm providing invoicing and time management solutions to entrepreneurs and small businesses, have jointly, released a new version of timer module, part of the Zervant time tracker application. This feature allows users to count working hours for customers and projects, and enables users to manage time sheets from anywhere, at any time.
With Zervant time tracker mobile application, the users can track billable hours and expenses for projects or individual customers. Invoices can be, instantly, created using data entered into the application. The user can review the invoice and edit as required. Payments are tracked with the option to send a reminder to the customers, if they do not respond on time.
RapidValue designed and developed the Android and Windows application for Zervant. And recently, RapidValue upgraded Zervant's existing iOS application to support iOS 9.
"The user-friendly application implemented by RapidValue provides rich user experience. This has helped us to reach large number of users. As we have been working together for couple of years now, I have grown to appreciate the flexibility that RapidValue team has shown while developing our mobile applications." says Tuukka Koskinen, Chief Operating Officer, Zervant.
Businesses can connect multiple users to the same account. Users can track mileage using GPS, log mileage manually and add tracked mileage to customer invoices. Data is automatically synchronized to the user's Zervant account. By logging into zervant.com, users can print timesheets and do their accounting at no cost. By upgrading the account, users can also send invoices to customers. Templates are included that allow users to incorporate the company logo. Support for multiple languages and currencies are also available.
"We are privileged to have Zervant as our customer, a fast growing business solutions provider in Finland, Europe. Time tracker application is downloaded by several emerging start-ups. We are honored to support entrepreneurs and freelancers, grow their business." says Rajesh Padinjaremadam, President & CEO, RapidValue Solutions.
This application (web and mobile) is used by over 90,000 people across 160 countries.
You can download the application from the App Store:
Windows Phone - https://www.microsoft.com/en-us/store/apps/zervant/9wzdncrdg8nc
Android - https://play.google.com/store/apps/details?id=com.zervant.zervanttracker&hl=en
iOS - https://itunes.apple.com/us/app/zervant-time-tracker/id511285251?mt=8
For more information, please contact:
Roshmin Nair, Manager - Business Development, RapidValue
Phone: UK:+44 – 2083966648
E-mail: roshmin.nair(at)rapidvaluesolutions(dot)com
Visit http://www.rapidvaluesolutions.com and http://www.zervant.com