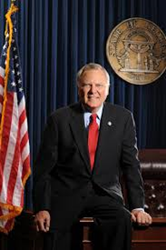 Atlanta, GA (PRWEB) April 14, 2016
The Atlanta local office of UNCF will host the Atlanta Governor's Luncheon on April 19 at the Georgia Railroad Freight Depot. The event brings together Atlanta business, civic and education leaders who support UNCF's efforts in providing quality education for minority students. Georgia Gov. Nathan Deal will deliver the keynote address and participate in an enlightening discussion centered on education. UNCF's president and CEO, Dr. Michael L. Lomax, will serve as moderator.
"Quality education is the most important resource a child needs in ensuring a successful life," Deal said. "It is our responsibility to provide the necessary tools to the next generation of leaders that will become the anchors in our community."
Since 2003, governors and other elected officials around the nation have hosted the UNCF Governor's Luncheon in an effort to provide resources for students to get to and through college. The Atlanta event will benefit UNCF's five member institutions in Georgia: Clark Atlanta University, Interdenominational Theological Center, and Morehouse, Paine and Spelman colleges.
"College affordability is one of the defining issues of our time, and UNCF remains steadfast in our determination to make higher education obtainable," Lomax said. "Governor Deal's commitment to this cause is commendable as we work together to bring forth future Atlanta community leaders."
Sponsors of the luncheon include Comcast, Northside Hospital and Southwest Airlines.
To purchase tickets, which are $150, or for more information, please contact:
Rhonda Ashison @ 404.302.8623 or Rhonda.ashison(at)uncf(dot)org
###
About UNCF
UNCF (United Negro College Fund) is the nation's largest and most effective minority education organization. To serve youth, the community and the nation, UNCF supports students' education and development through scholarships and other programs, strengthens its 37 member colleges and universities, and advocates for the importance of minority education and college readiness. UNCF institutions and other historically black colleges and universities are highly effective, awarding nearly 20 percent of African American baccalaureate degrees. UNCF awards more than $100 million in scholarships annually and administers more than 400 programs, including scholarship, internship and fellowship, mentoring, summer enrichment, and curriculum and faculty development programs. Its logo features the UNCF torch of leadership in education and its widely recognized motto, "A mind is a terrible thing to waste, but a wonderful thing to invest in."® Today, UNCF supports more than 60,000 students at more than 1,100 colleges and universities. Learn more at UNCF.org or for continuous news and updates, follow UNCF on Twitter @UNCF.