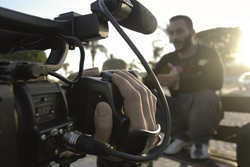 Mike Payne, CTO and President of Vislink in the Americas, explains: "The way news breaks is constantly evolving, and broadcasters need to keep ahead of the curve, if they are to continue to meet viewer expectations.
Las Vegas, NV (PRWEB) April 18, 2016
NAB Show – Vislink, a leading global technology business specializing in the provision of advanced communications to the broadcast industry, has launched a new wireless communications solution specifically designed for Electronic News Gathering (ENG).
Vislinknewsnet makes it easy for news broadcasters to meet the demand for high-quality, up-to-the-minute broadcast coverage. It allows reporters to work in the field as if they were in the studio, with the guarantee of always getting that high quality, edited story back to meet scheduling deadlines. It also means that the producer can use multiple points of view 'on demand' from multiple trucks as and when required without lengthy link set up and negotiation.
The solution provides a secure, bi-directional, high speed data and video, radio network with concurrent connections to each receive sector, all on a single channel within the broadcaster's BAS spectrum. It allows the broadcaster to manage their own data link allocations, to address different uplink and downlink requirements, reduce bottlenecks and prioritize the data when the story matters, based on studio systems and workflow.
Vislinknewsnet also includes a number of practical features to help with usability, such as an app to quickly establish link connections, for speed and ease of contribution, as well as an intuitive management system with drill-down map-based user interface. It is a world-first solution that broadcasters can depend on and introduce as a non-disruptive evolution of their current network.
Mike Payne, CTO and President of Vislink in the Americas, explains: "The way news breaks is constantly evolving, and broadcasters need to keep ahead of the curve, if they are to continue to meet viewer expectations. To do this reporters need flexible tools and dependable connectivity, even when they are outside the studio network.
"With Vislinknewsnet reporters can work as if they were in the studio, combining the same workflow, with the drama of being at the scene. News directors can produce more, high quality outside content without the fear of congestion, contention or public network jamming, even when covering high profile stories. Vislinknewsnet also makes it possible for directors to control costs by making more efficient use of the spectrum they already use."
Vislinknewsnet will ensure news broadcasters are able to capture and deliver unique and compelling live video content that gives viewers the feeling of "being there". Key business benefits include:

Increasing the value of file based, field originated content with studio production qualities
Supporting news reporting from multiple live feeds per truck and multiple trucks per area
More content generated from the same resources
More concurrent live shots
Dependable bi-directional IP links
Quicker & easier production/filing of news reports
More effective use of spectrum & staff
Easy to use operation that allows non experts to use the solution out in the field through auto-guidance and smartphone app
"News directors, reporters and correspondents will realize the advantages of Vislinknewsnet as soon as they get to use it. In fact, it's transformed news broadcasting for our trial customers already," continues Mike. "The user experience is just like working on the studio network but with all of the benefits of being close to the action, as it happens. It can transform the back of a truck into a mobile bureau, and make the production and delivery of news more exciting and more flexible than ever before."
Vislink will demonstrate the new wireless technology at the NAB Show in Las Vegas from April 16-21 at booth #C608
Further information:

Patrick Farrell for media enquiries, to arrange a meeting with Mike Payne CTO, or to organize a demonstration (603) 661-0799 pfarrell(at)berkeleyglobal(dot)us
Visit http://www.vislink.com to learn more
Join us at http://www.facebook.com/Vislink or follow us at @Vislink
About Vislink:
Vislink is a leading global technology business specializing in the wireless capture, delivery and management of high quality live video for the Broadcast & Media and the Public Safety & Surveillance markets.
Over 70% of all outside wireless broadcast video is transmitted using Vislink equipment, across more than 200,000 systems worldwide. From live news, sport and entertainment through to law enforcement and homeland security, Vislink's expertise gives you the edge.
Drawing on over 50 years' experience with a wealth of blue chip companies, Vislink offers superior packaged solutions that let you "be there" with the best view, close to the action, even in the most challenging conditions.
Vislink is the trading name of Vislink International Limited and Vislink Inc.
All trademarks, service marks and company names are the property of their respective owners.